The safety of our students, classified professionals, faculty, and community are Priority #1.
You are required to fill out a self-assessment questionnaire each day you are on one of our college campuses. We ask that you complete this questionnaire prior to visiting to campus.
You must stop at a check-in location every time you visit campus. You will have to be screened at each campus you attend. Once cleared, you will receive a health pass clearing you for that day.
Below is detailed information about our Healthy Return to Campus protocols.
Learn how to Download the App to your phone
Download the App
Resources and Information
Open the app on your phone.
When you log in to the Mobile App, make sure notifications are enabled in the app. Enable notifications by clicking the bell-shaped icon at the bottom of the app and then the preferences icon at the top right:
Beginning January 2021
Daily Home Pre-Screening
Within the app, you will receive a daily reminder at 7 a.m. to complete the Daily Health Status Screening form at home. If you tap on the notification, you can fill out the form right away. If you miss the notification or you need to fill out the prescreen, you can tap on this "tile."

Your health pass will reset every time to fill out the form.
If you do not have a smartphone, you can fill out the At Home Pre-Screening form on a computer.
Based on the answers you provided in steps 1 and 2, the app will issue a health pass. A "yellow" health pass indicates you are clear to proceed to a campus screening checkpoint.
A "red" pass means do not go to campus. The College Health Center will contact you.


Note: Click the box with a line through it in the upper left-hand corner to open the in-app QR code scanner: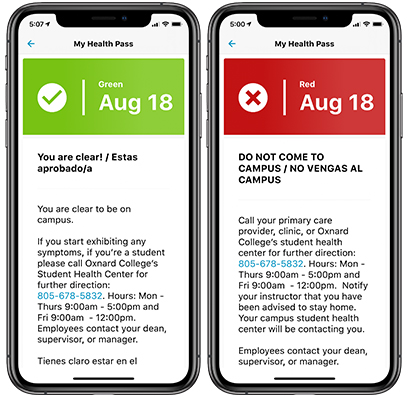 Building/Room Check-In
As students, classified professionals, and faculty move around campus, you will be required to check in to buildings and rooms by scanning QR codes posted on doors and walls as you enter. The same QR code can be used in the app to check in.
Be safe, stay healthy, and have a great semester.
Frequently Asked Questions
Do I have to pay for parking?
No, there are no parking fees for the fall 2021 semester.
Do I have to wear a face mask?
MiraCosta College is committed to providing a safe and healthy learning environment. In part, we have instituted a vaccine mandate for students and employees. In the interest of public health, and to mitigate the spread of COVID-19, MiraCosta College requires everyone on campus, visiting indoors of any district buildings, must wear a CDC-approved facial mask at all times. Failure to wear a facial covering properly will be addressed and non-compliant individuals will be asked to leave.
Face masks shall be required to be properly worn over the nose and mouth while on district property. The face mask must be worn in all of the following locations: indoors, shared common spaces, shared vehicles, while traveling for district-related business, or where otherwise required by law. Students may only remove their face masks on District property while they are alone outdoors or while eating in a designated break room and able to maintain six feet distance from others.
I have a class on campus. What do I do?
Download the Mobile App. Visit the
information page
for instructions. Visit the
Healthy Return to Campus page
for step-by-step information on the screening app.
How can I download the mobile app and access my health screening app?
Visit the
Mobile App information page
for instructions.
Does the Mobile App need to be updated?
Yes, turn on your automatic update feature on your phone so you don't miss any updates.
Where do I go on campus to be screened?
Visit the campus map page and find the health screening locations listed on the left side menu. Click on a location to see more information.
What happens if I don't have access a smartphone and can't access the health screen app?
If you don't have a smartphone, you can fill out a COVID-19 pre-screening self-assessment on any connected internet device. A link to the self-assessment is located at:
What do I do after I am screened?
If you are cleared, you will receive confirmation and are able to go to class. Just remember to wear your face mask, watch your distance, and wash your hands.
What do I do if I don't have a smartphone and I don't have internet access?
Where do I find other information?
Will there be restricted parking, and/or paths for me to enter and exit through?
Yes, each campus has designated parking lots and Daily Health Check Screening Locations.
Are all classes online this spring?
While most of our classes will be online, some select classes and programs will still be offered either fully or partially on-site. Please check SURF
carefully to see if your classes are online or on-site. If in doubt, check with the class instructor or counselor.
Will Student Services be open?
Student and instructional services will be available online (e.g., Counseling, Admissions & Records, Financial Aid, etc.) and on-ground.