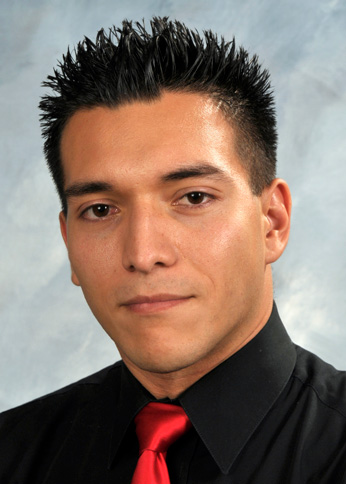 Even before he enlisted in the Marine Corps and served two tours in Iraq, Adam Frye had his sights on working in the aerospace industry. Mission accomplished. After graduating with his master's degree in June, the former MiraCosta College Associated Student Government president will begin the next chapter of his life working as a guidance navigation and controls engineer at Raytheon Missile Systems in Tucson, Ariz.
"I'm where I want to be, and I'm where I want to be in large part because of MiraCosta College," Frye said.
Frye's journey has taken him halfway across the world and is serving as an inspiration not only to other military veterans, but to anyone looking to transform their lives through a community college. Faculty and staff at MiraCosta, where Frye's contributions included working as math mentor in the Tutoring & Academic Support Center, are among his biggest fans.
"His life experience as a military veteran, student body president, and world citizen provided a success context for all students who came in contact with him," said Dr. Edward Pohlert, faculty director of Retention Services at the tutoring center. "His above-and-beyond approach to service impacted many students and community members as he led MiraCosta College in setting a positive example battling through hardships and challenges. His humble demeanor, focused effort, and friendliness was exemplary for other tutors to emulate."
Born in Glendale but raised in El Salvador, Frye returned to California after the grandparents who were rearing him passed away. It was while he was at Herbert Hoover High School in Glendale that terrorists flew jetliners into the World Trade Center buildings in Manhattan and the Pentagon across the Potomac River from Washington, D.C. As soon as he was old enough, Frye enlisted in the Marine Corp, where he was attached to the 2nd Battalion, 4th Marines based at Camp Pendleton.
"I felt a sense of duty to serve my country," he said.
Frye's two tours of Iraq included hellish firefights during the 2006 surge in Ramadi. With his active-duty commitment winding down, he found himself back at Camp Pendleton looking at his options.
"I figured it might be a good time to go back to school," Frye said. "MiraCosta was close by, the online reviews were good, and people were talking about how great the professors were and how nice the campus was."
He enrolled in the summer of 2009, taking a math class with MiraCosta College Professor Mohammad Rajah and an astronomy course with instructor Rica French. "They were great teachers, the best," said Frye. "Rajah motivated me so much. He was strict, but he was always there for you. Rica French wasn't any easier. I guess you could say I took a dive into the deep end of the pool to see what would happen, and it came out better than OK. They motivated me to excel and keep going. Before I knew it, I had been there for a year and a half, I was involved in student government, and I didn't want to leave."
Frye, now 32, was more than involved in student government; he served as Associated Student Government president when MiraCosta became a smoke-free campus and when the school was honored by the White House for its extensive volunteer work. Frye also played a pivotal role in the creation of the Veterans Memorial Garden at the Oceanside Campus.
"I lost some friends in Iraq, so for me, it was important that they and other veterans get this kind of recognition," he said.
After earning his associate degree in pre-engineering from MiraCosta College, Frye transferred to Cal Poly San Luis Obispo. He was awarded his bachelor's degree in 2016 and will earn his master's degree in June, both in aerospace engineering. He has spent the past four summers working as an intern at Raytheon. This summer, he heads back to Raytheon as a full-time engineer.
Why aerospace engineering?
"As a little kid I was always interested in science. By the time I got to high school, I got really good in math, too. Those are the two subjects I was drawn to. The way I see it, it was like math and science got together and had a baby, and that baby was called engineering. So I totally fell in love. Then it was a matter of what kind of engineering, and for me, it was aerospace. I haven't looked back, and here I am."
Janine Washabaugh isn't the least bit surprised. Washabaugh, a retention services specialist, worked closely with Frye at the Tutoring & Academic Support Center.
"Despite debilitating headaches resulting from a traumatic brain injury received while serving our country, Adam was persistent, dedicated and focused on achieving his goals," she said. "In short, Adam would not give up and he inspired students he tutored to stay the course as well."
Frye, an Emerson Network Power Scholarship recipient at MiraCosta, demurs when asked about his contributions.
"If anything, I'm hoping the message I leave behind for others is that you can build a great foundation at MiraCosta with the help of some amazing instructors and support staff, and no matter what your goals or dreams are, you will reach them if you put in the work."