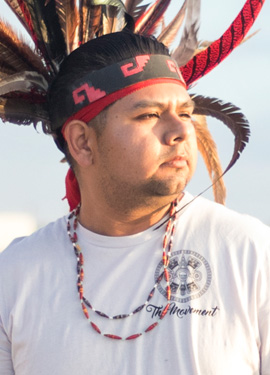 Adrian Mandujano had long wanted to open his own business. Which is why he turned to MiraCosta College's entrepreneurship program when he went looking for the marketing and management skills to help him succeed.
Good thing. Today, Mandujano owns and operates The Movement, a successful online firm that not only sells casual apparel inspired by Latino tradition, but also stages educational events celebrating that tradition.
"The instructors I had at MiraCosta College provided me with a rigorous curriculum that was invaluable in me doing what I'm doing now," said Mandujano, who earned an associate degree at the Oceanside Campus in the spring of 2016. "Every class I've taken, from social media to web design to small business marketing, has given me an understanding and appreciation for how a business operates."
Mandujano's company stands out in the way it blends clothing with culture. Every design is unique and each tells a story. The Movement's Nahui Ollin ("four movement") print, for example, signifies a balance in the world and the perpetual movement of the universe.
"I don't just sell shirts," said Mandujano. "I also teach the meaning behind the design."
A fourth-generation Mexican-American, Mandujano said he was largely oblivious to his cultural roots while growing up in Carlsbad. That led him to join cultural dance groups, a move that proved vital in helping him learn about the history of his community and the Spanish language.
"We were always taught to adapt to the community around you," he said. "I still see a lot of that now. It seems a lot of people are scared to dive in and discover their roots."
Enrolling at MiraCosta College, Mandujano, 24, was intent on opening a clothing store that would educate the community about Aztec, Maya and other ancient civilizations. "MiraCosta was close to home, and I heard the instructors and the classes had a lot to offer," Mandujano said. "I wasn't disappointed."
At MiraCosta College, Mandujano learned how to build a website. He interviewed local business owners and went behind the scenes at Legoland to learn how to treat customers right. And he also picked up pointers on crafting a business plan and staging cultural events. He is among the reasons MiraCosta College alumni are responsible for generating more than $252 million in added income to the region each year.
He impressed more than a few professors along the way.
"I watched Adrian start with an idea, which he developed into a promotional plan during our Business Promotions class in spring 2016," said Professor Cheryl Wadeson. "From the beginning his vision was clear and far beyond selling shirts and caps. He set out to educate a community on their heritage through grassroots efforts."
Web design instructor Claudia Faulk lauded Mandujano's commitment.
"Adrian came to class with a spark of an idea simmering in his heart," she said. "He wanted to share his pride in his culture with the world. In one class he used a project to share the idea online. In another he promoted it through social media. He wanted to do more, so he came to my business and asked if he could hold an event celebrating his culture with art, music and food. I don't think he was expecting the first event to be very big, but his enthusiasm caught hold and many people came. The City of Oceanside then asked for his help to hold something similar. He held another event down in San Diego near Chicano Park. His little spark of an idea has turned into a bright flame that will light his way into the future."
Added Wadeson:
"Seeing Adrian implement his plan, connect with people literally all over the United States and beyond, and develop a social media following of fans and customers has been incredible. His commitment is relentless and I'm proud to wear my ollin camisa and share his story with other aspiring business owners."