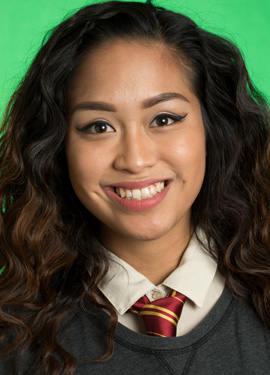 Born in Virginia and raised in Italy, it didn't take Aisha Kelsey Mijares long to feel at home at MiraCosta College when she began her higher educational journey. She quickly landed a job as a Lab Tech Assistant, and just as quickly became active with the Italian Club, the Japanese Club, and the Film Club, among others.
"It's a wonderful school with a beautiful campus and there's always someone there to help you, whether it's the counseling center, the math center, or the computer lab," Aisha said. "They give you everything you need to move forward."
This fall, Aisha will be moving forward to Cal State San Marcos, where she is transferring after earning an associate degree from MiraCosta College. Her goal: become an animation artist for the Walt Disney Co.
Aisha, whose dad served in the Navy special operations, spent most of her childhood in Europe. Like many MiraCosta College students, she has worked at several jobs since she enrolled, including serving as an instructional aide in the computer lab at the Oceanside Campus. Other gigs include waitressing, assisting at a Camp Pendleton Youth and Teen Center, and serving as a brand ambassador who promotes various companies at concerts, trade shows, and video game competitions and conventions.
Her artistic talents have caught the eye of many, and she was chosen to complete much of the design work for a MiraCosta College libraryexhibition celebrating the Lunar New Year in 2016 and graphic design for the Japanese Internment exhibition in 2017.
She is among MiraCosta College's biggest fans. And for good reason.
"The teachers here are amazing," said Aisha, 27. "Anytime I needed help, they were there for me. Everybody has been accessible. Coming here was a really good choice. I was able to make friends really fast, and everybody has been really friendly."
Friendly is how Aisha's friends describe her.
"Aisha is so accepting of other people," said fellow MiraCosta College Instructional Aide Adele Urias. "She's a very positive person who brightens up the room as soon as she walks in. She's been so helpful to so many people, and really represents what MiraCosta College is all about."