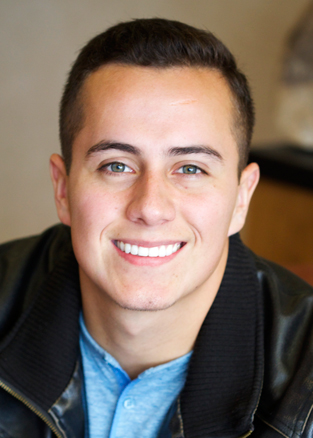 For some students, failure to do well in the beginning of their college career prevents them from successfully earning a diploma, but not Andrew Coba. If anything, his first semester blunder ignited a fire in him.
Coba, son of a Marine Corps veteran, never planned on attending college after graduating from high school. Instead, he wanted to follow in his father's footsteps and become Marine, but after some convincing from his dad to give college a try, he agreed to give it a go.
"My first semester was pretty intense," said Coba. "I got beat up by the classes and ended up with a 1.9 GPA."
Instead of giving up, Coba became motivated to do better the next semester. He decided to clean up his study habits and focus on his schoolwork. Coba also began using numerous services offered by The HUB including the Writing Center and the Math Learning Center. He joined the Facilitated Learning Sessions offered by the Tutoring & Academic Support Center (TASC) and took advantage of professors' office hours.
At the end of his second semester, Coba earned A's and B's, which improved his GPA greatly.
"I became really immersed in college my second semester and I think that's what I was missing before," said Coba. "After a successful spring semester, I decided to keep improving."
In summer 2011, Coba joined the Student Ambassador Program, knowing his first year experiences would provide a good story to enlighten other struggling students.
The program also taught him how to speak and carry himself more professionally—qualities that he believes are a foundation of good leadership.
In 2013, after three years at MiraCosta College, Coba graduated with an associate's degree in liberal arts with an emphasis in math and science. He then went on to transfer to his dream school—and the only one he applied to—San Diego State University (SDSU).
Majoring in civil engineering, Coba hopes one day to use his knowledge and skills to help his birthplace, Ecuador, rise from its decaying infrastructure.
"I realized how much of a direct impact civil engineering can have on a community," said Coba. "The discipline is meaningful and it is all for the public good."
To add to his engineering knowledge and leadership experience, Coba serves as president of SDSU's American Society of Civil Engineers chapter.
Coba graduated from SDSU in spring 2016. He plans on working in the field and later earning a professional engineer license, the engineering profession's highest standard of competence.
Eventually, Coba wants to enroll and graduate from an MBA program and work as a leader in the engineering field.
"The classes I took at MiraCosta really prepared me to succeed and have been so fundamental to what I am doing and learning now. I don't think I could be where I am today if I hadn't started my journey as a MiraCostan."