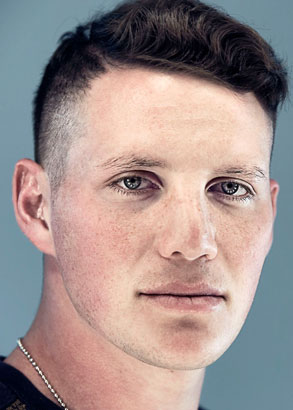 Sometimes it is hard to break out of a strict tradition, but that is exactly what Ari Jogiel-Scham did. Today, he couldn't be happier.
Born in Mexico City, Ari Jogiel-Schlam grew up in a Mexican-Jewish community where familial tradition flourished, soccer is religion and fashion is always on point.
At the age of 12, he left Mexico City and moved with his family to the United States. They first settled in Illinois, then later moved to San Diego.
Ari graduated from Torrey Pines High School in 2007 and looked for a two-year college to start his undergraduate studies. He toured MiraCosta College and after meeting some of the instructors, he decided the college was a good fit with his educational goals and enrolled right away.
Aside from school, Ari was an avid soccer player and dreamt of becoming a professional soccer player.
"Soccer was my life growing up in Mexico City and when I enrolled at MiraCosta, I found out the college has a men's soccer team so I tried out and got in," said Ari.
To improve his soccer skills, Ari went back to Mexico in the summer before the fall 2007 semester began. During training, he was injured and tore his ACL, which caused him to miss the next soccer season.
"I did get to play during my second year at MiraCosta, but I just wasn't at the same level as before the injury," said Ari. "That prevented me from my dream of playing soccer professionally."
In 2009, Ari graduated from MiraCosta College with an associate degree in business and transferred to Chapman University. After earning a bachelor's degree, he worked as a business professional, but felt he was destined for greater things.
"I earned a degree in business because Mexican-Jewish kids traditionally grow-up to be lawyers, businessmen or doctors," said Ari. "However, I just wasn't enjoying what I was doing. Life is short, so I decided wanted to do something that would make me happy."
That "something" was to become a fashion designer.
Fashion, like soccer, was always part of Ari's life, and his love for it began at a young age.
"Growing up, I've always loved fashion," said Ari. "I would spend hours shopping for clothes! My favorite thing about going to school was actually putting an outfit together and getting dressed for it."
Unfortunately, due to strict family traditions, a career in fashion was never an option supported by his family.
On his own, Ari began designing hats with a leopard print theme. He manufactured them overseas and sold the hats in the United States.
"It dawned on me that I could actually do this and make it work, so I left my job in corporate," said Ari. Since then, Ari has extended his clothing line aptly named, LEOPARDËT.
"My background is pretty unique and leopards are unique animals, so my clothing line mirrors that," said Ari.
LEOPARDËT includes a line of shirts, pants, shorts, rompers and hats, which are all available for purchase on leopardet.com and at a handful of retail shops in Los Angeles.
"Our products are made with the finest fabrics, produced domestically, and offer a sophisticated look with empowering colors and casual elegance," said Ari. "Ultimately, I hope to bring fashion back into the United States the way it was decades ago."
Ari thanks his college education for helping make his dreams come true and putting everything into perspective.
"Starting a business in America is hard and the fashion industry is even more complicated to navigate. Everyday has been a learning experience, but I am happy."
LEOPARDËT ran a Kickstarter Campaign that began November 2015 and successfully reached its goal of $25,000 to help increase his ability for future designs, create brand awareness and bring fashion back to America.