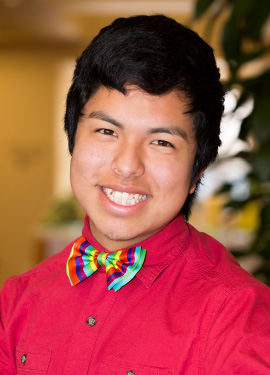 Brayan Astorga, as an openly queer teenager, thought he would never get to the age of 18. Brayan suffered through years of bullying and was called derogatory names by his classmates on a daily basis.
"[All the bullying] made me hate life to the point where I would cut myself," said Brayan, who often felt suicidal.
One day, Brayan had a revelation that he said changed his life for the better.
While sitting in class, Brayan wrote the sentence "life is funny" vertically on a piece of paper.
"The first letters of the sentence spelled out 'LIF' and I thought it looked incomplete, so I added the word 'everyday' at the end, which resulted with the acronym LIFE," said Brayan. "The acronym 'LIFE' literally saved me. It was just a huge epiphany."
From that day forward, Brayan woke up every morning, looked at himself in the mirror and said, "Life is funny everyday."
"I have friends who call me 'LIFE.' I even got the word tattooed on my wrist just to remind me life is funny everyday," said Brayan, who today is rarely seen without a smile.
In 2013, Brayan graduated from Oceanside High School. Though he had always dreamt of attending UC Davis, he instead enrolled at MiraCosta College.
"I realized I wanted to stay local," said Brayan. "I also didn't feel like being in a class with 500 people. I knew MiraCosta could give me the 'community' feel, which I like about community colleges."
During his first week at MiraCosta College, Brayan was elected the president of the Gay-Straight Alliance (GSA) Club.
"When I went to the very first GSA meeting, I felt a little out of place because there I was—a 17 year-old freshman wanting to run for president," said Brayan. "The members knew I wanted the position and have leadership experience running the GSA Club at my high school, so I was voted president that very same day."
During his presidency, Brayan helped create the "Queer Corner" inside the Student Center and raised $30,000 for the Gay Straight Alliance Endowed Student Scholarship.
Brayan was GSA president for two years. During this time, he also served as vice president of the Community Learning Center's Associated Student Government (ASG), chair of the ASG interview committee, and chair of the student center advisory committee.
He was also the founder of Spartans for Animals, a club that provides its members opportunities to volunteer locally to help animals and brings awareness concerning animal-related topics to students, faculty/staff, and the community.
MiraCosta College's student body elected him its 2015-2016 Associated Student Government president.
"I used to be this loner kid who ate at a corner by himself, but not anymore. I now always try to be involved and help out as many people as I can," said Brayan.
Brayan hopes to one day transfer to a CSU and continue majoring in LGBT studies.
"The experience I've had so far at MiraCosta College has been amazing. I am so grateful to be here. I love it here."