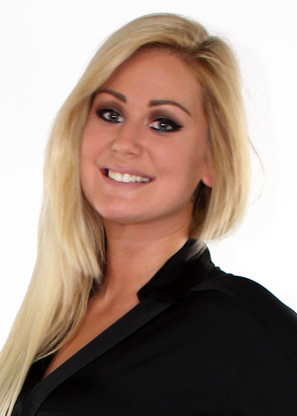 Britnee Sapp wasn't sure what she wanted in a career when she first enrolled at MiraCosta College. Today, thanks to the guidance she received and the expertise of her instructors, she runs a rapidly growing graphic design business that is fast becoming a favorite of microbreweries from San Diego to Trondheim, Norway.
Mission Brewery, Indian Joe Brewing, Bear Roots Brewing and Oceanside Ale Works are among those tapping into Sapp's expertise to design everything from logos and t-shirts to bottle labels and packaging materials.
"Britnee is wonderful to work with," said Geri Lawson, vice president at Indian Joe Brewing in Vista. "She's knowledgeable about the craft beer industry and she's a very talented graphic designer who is reliable, can get the project done in a timely fashion and is skilled at what she does."
Sapp, 27, credits MiraCosta College.
"MiraCosta has had such a huge impact on my life and on what I do," she said. "If it were not for the college, the support of my amazing professors and being handed the opportunity to get my foot in the door by working for the college in the Student Activities Office for three years, I wouldn't be where I am at today."
Sapp embodies MiraCosta College's mission as a key component of the North County economy and a leading provider of workforce development in the area. MiraCosta College generates a total economic impact of more than $338 million to San Diego County's gross regional product annually, enough to support more than 5,000 jobs, according to a recent study. Since January of 2015, the Small Business Development Center hosted by MiraCosta College has seen nearly 4,500 people take part in its training sessions.
"Britnee represents the best of MiraCosta College in so many ways," said Jill Malone, Chair of the Media Arts and Technologies Department. "She is bright, upbeat, and very talented. She welcomes a challenge, enjoys the hard work that accompanies it, and has the dedication to meticulously see a job through to completion. I had her in my digital illustration, digital imaging, and digital publishing courses. She was an absolute joy to have in class and was an inspiration to everyone. I'm truly delighted, and not the least bit surprised, at her wonderful success."
Nikki Schaper, Dean of Behavioral Sciences, History and Continuing Education who has worked with Sapp in the past, agreed with Malone's assessment.
"Britnee is a shining example of the best MiraCosta has to offer," she said. "The skills she learned allowed her to produce stunning work, to be a model employee and now an astute business owner."
Starting a business was the last thing on Sapp's mind when she enrolled at MiraCosta following her graduation from the Guajome Park Academy in Vista nearly a decade ago. It was only after an aunt suggested she consider taking some graphic design classes that her future changed.
"When I first went to MiraCosta, I didn't know what graphic design was at all," she said. "I was just taking general education classes here and there and working. But my aunt said, 'You've always been so creative, and I want to see you expand your skills. You should take advantage of the different design courses they have there.' I decided to try it out and the second I stepped into my first design class, Adobe Illustrator, I knew my future was set."
Soon, Sapp was completing courses in InDesign, Adobe Photoshop, Digital Imaging and more. Before long, she worked for the college in the Student Activities Office designing the school's event flyers, student handbooks and more. From there she was finding work as a freelancer. And that led to a full-time position with WS Display, a manufacturer of large-format, wholesale tradeshow graphics, signs and banners.
Sapp's big break, though, came when she began landing freelance gigs with local beer makers who have been more than hoppy with her work. "It was the perfect job," she said. "I love craft beer and with my passion for graphic design, this doesn't even seem like work. I've definitely found my dream job career."
She hasn't taken a class at MiraCosta for about two years, but she's determined to return for a degree. For now, she's staying focused on her career – her clients also include the Vista Chamber of Commerce, Encinitas 101 MainStreet Association and the Escondido Downtown Business Association – and growing her business in the brewing industry. Her success has drawn the attention of the West Coaster, a publication focusing on everything beer-related in San Diego.
"I love what I'm doing and how far I've come," she said. "and I will continue to push myself every day to be the best I can possibly be."