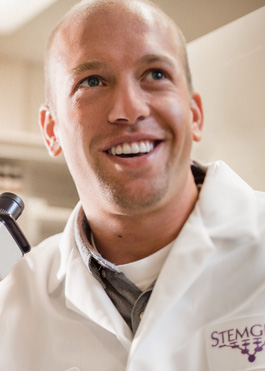 North San Diego County Native Bryan Taggart took a less traditional route in his pursuit of education. After completing high school, like many of his peers, Bryan went away to college. In the spring semester of 2009, he graduated from the University of California, Santa Cruz with a bachelor's degree in Marine Biology and moved back to San Diego, where he found the job opportunities in marine biology limited and difficult to obtain. After searching for some time, Bryan learned there were plenty of job opportunities in the biotechnology industry, and decided to enroll in MiraCosta College's biotechnology program.
Initially Bryan only intended to take one or two classes to see if he enjoyed the subject and was pleasantly surprised to find he liked biotechnology. "When I started the program, I didn't have the technical skills for biotech. In marine biology we typically work with whole organisms, so it was interesting learning how to work with smaller organisms, cells, and instruments," says Bryan.
One thing that stood out the most to Bryan during his time at MiraCosta College was the quality of education. "All of the professors and classes were great. I was really impressed with the quality of instruction. They have all worked in the industry and were incredibly knowledgeable about the subject. The whole program was very team-oriented; it was an excellent environment for learning," says Bryan.
After one year at MiraCosta College, Bryan had taken every biotechnology class offered during the time period he was enrolled. Currently he holds all of the certificates offered by the Biotechnology Program – a Certificate of Proficiency in Laboratory Skills, Certificate of Achievement in Bioprocess Technology, and Certificate of Achievement in Research and Development from MiraCosta College.
In April of 2010, Bryan secured a job working as a laboratory technician/operations intern at Stemgent, a biotechnology company located in San Diego, California. After one year and a lot of hard work, Bryan was promoted to research associate. "In my current position I work with stem cell cultures, do quality control, and perform research. MiraCosta College prepared me very well for my job. Even before I started working at Stemgent I knew how to operate all of the equipment that I work with in the laboratory everyday."
In the future Bryan hopes to pursue a master's degree in biotechnology at California State University, San Marcos. When he decides to do so, he will have a leg up. "Many of the courses satisfy requirements for the master's program at Cal State San Marcos."
Biotechnology is an ever changing, rapidly growing industry. Approximately one-third of the biotechnology companies within the United States are located in California. In San Diego County alone there are more than 500 companies devoted to biotechnology, bioscience and biomedicine. "It is really interesting to be working in a cutting edge field," says Bryan. "I've gained a lot of confidence in myself and my abilities, and made some great connections.