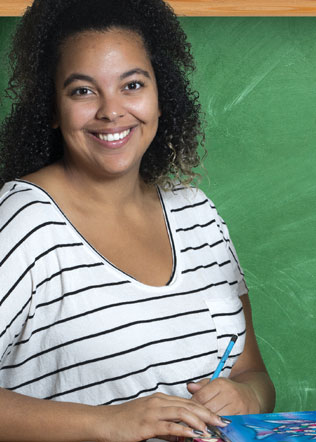 Chelise Walker is what MiraCosta College is all about.
The San Marcos resident was lacking a clear vision of what she wanted in her future after graduating from High Tech High North County. So, a couple years later, Walker decided to give MiraCosta College a try.
Good thing. Today, Walker is thriving in MiraCosta College's Child Development program, is preparing to transfer to a university, and is laying the foundation to work as a preschool teacher or director – and perhaps earning a master's degree in the field.
"In a perfect world, I would come back to MiraCosta College as a professor and teach child development," said Walker, who turned a service-learning assignment at the Child Development Center into an apprenticeship in which she is now training other future preschool teachers to organize teacher schedules, plan activities and more. "This place has meant so much to me."
That became clear the first day she stepped on campus.
"MiraCosta is focused on a student's end goal," Walker said. "It's focused on a student's success, in everything from the application process to student support services, to helping you find financial aid and finding a job. Everything is accessible, and the teachers are passionate about what they do."
It's that sort of atmosphere that attracts approximately 15,000 students each year to register for for-credit classes at the Oceanside and San Elijo campuses.
Linda Haar, director of the MiraCosta College Child Development Center, said Walker represents the best of the what MiraCosta has to offer.
"She is a committed, high-energy student who has a great future and gives her all in her studies and at her job at the Child Development Center," Haar said. "We want our students to leave here with the confidence and competency to go out and work in the community effectively with children, and Chelise certainly is a great example of that."
Walker had never given much thought to a career in child development when she enrolled at MiraCosta College three years ago. Interested in a possible career in psychology, her future changed when she enrolled in a child development course and was assigned to volunteer in the Child Development Center as part of the college's nationally recognized Service Learning Program. Some 65 or so classes are involved in the program, in which community service is directly tied to the syllabus and connected to course learning, including child development. Other classes with a service-learning element include counseling, media arts and technologies, communications and sociology.
It's all part of a comprehensive student engagement and student success effort that contributes to the college generating a total economic impact of nearly $340 million to San Diego County's gross regional product each year. Indeed, a student who earns an associate degree from MiraCosta College will see an increase in earnings of $11,700 each year compared to someone with a high school diploma – an increase in earnings that amounts to an estimated $456,300 over a working lifetime.
For Walker, 24, the Service Learning and Child Development programs allowed her to find her passion. And her future.
"I love watching the kids grow and learn," said Walker. "I was hooked."
Added Haar: "A lot of the students in our program come over here as service learners and find out this is something they really want to do and learn more about. It sparks a passion they sometimes didn't know they had."