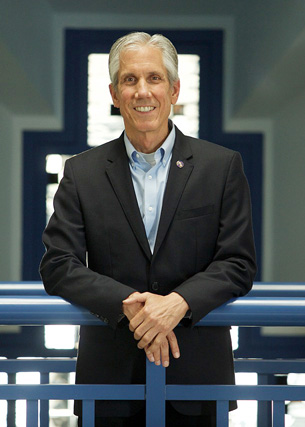 MiraCosta College is where leadership begins. Just ask MiraCosta College graduate Chuck Lowery, who now serves as the Deputy Mayor of Oceanside.
"MiraCosta College is a wonderful asset to the community," Lowery said. "A lot of people got their start there."
Lowery was born and raised in Oceanside and attended Ditmar Elementary School, St. Mary Star of the Sea and Oceanside High School before enrolling at MiraCosta College in 1969.
"It was a comfortable transition coming from a high school setting to go to a college with such a supportive environment," he said. "It was reassuring for me, who was somewhat of an introvert at the time."
After earning an associate degree in 1971, Lowery transferred to San Diego State University and later founded Pacific Bakery, a wholesale business that would later count Whole Foods and Trader Joe's among its clients.
Lowery has been elected to the Oceanside City Council twice and is bullish on the city's future. "Over the past 20 years or so, Oceanside has gone through a complete metamorphosis," he said. "We have gone from being a rundown, abandoned, Southern California coastal town to an up-and-coming destination with incredible promise and a lot to offer."
MiraCosta College also has grown since Lowery graduated. At the time, just 2,000 students were enrolled at the college, and the area served by the district was only about half the size it is now. Today, some 15,000 students attend for-credit courses in some 70 academic subjects at the Oceanside and San Elijo campuses.
The Deputy Mayor said his heart will always be with MiraCosta College.
"The folks at MiraCosta have done an incredible job with their outreach into the community," Lowery said. "The college is not just sitting there on the hill waiting for high school students to enroll. They're reaching out with ample opportunity for a wide range of people, from someone who may have recently lost their job and is looking for something else, to somebody who may have just moved here and wants to take up a new interest. It's just a great campus with great people and great faculty members looking to serve their students."