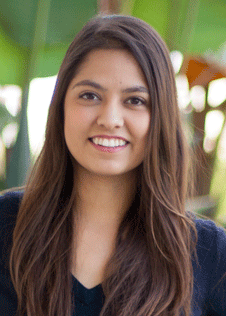 Look up the word "determination" in the dictionary and you might find a picture of Cynthia Valdovinos.
Cynthia moved to Oceanside from Michoacán, Mexico, in 2011 and immediately began taking ESL classes at MiraCosta College's Community Learning Center to improve her English. "I wasn't really fluent,"she said.
She wasn't done when she finished the ESL program. Although she had earned a high school diploma in Mexico, Cynthia wanted to keep working on her English, so she enrolled in MiraCosta College's Adult High School Program. "I wanted to go to college, and I really wanted to be prepared."
It worked. Cynthia enrolled in her first MiraCosta College class in 2012 and is now taking a full load of courses as she moves toward her goal of transferring to a four-year university and launching a career in software or web development.
She has done so well in English, she is tutoring others in writing, helping students work on their essays and learn proper grammar. She also serves as a math tutor.
"MiraCosta is such a great college," Cynthia said. "I'm glad that I came here and I'm super, super happy to be a part of this institution."
It has taken a lot of work, but Cynthia has received a lot of help.
"The ESL classes at the Community Learning Center really helped me a lot, especially with my writing," she said. "And it was very helpful in understanding American culture." One of the most effective exercises she did was having conversations in class and then writing a synopsis of the discussion.
Four months later she was off to the Adult High School Program. "My goal has always been to go to college and the people at the CLC have done everything they can to get me prepared."
They did a good job. Cynthia has a 3.8 grade point average.
"There is no excuse to get bad grades here," she said. "There are so many resources, so many people willing to do what they can for you. You can get help anywhere at the college."
In spring 2016, Cynthia graduated with associate degrees in science and mathematics. She transferred to UC San Diego and is currently pursuing a degree in computer science. She also works as an instructor at ID Tech, a summer camp that teaches kids how to code.