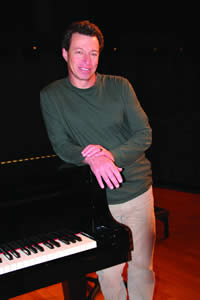 Music Instructor
MiraCosta College music instructor Dan Siegel started performing professionally as lead singer and guitarist in a rock band at age 12. Now he's known as a "quiet giant" in the music industry with his 20th solo album released in spring 2013.
Siegel released his first album in 1979 on Inner City Records, a New York based independent jazz label. His second album, The Hot Shot (1981), reached No.1 on the Radio & Records Jazz Chart and remained in Billboard's Top 10 selling Jazz albums for 10 weeks. Since then, he has performed his Top 10 recordings around the world, cultivating a global audience. He has also published nearly 400 musical compositions.
In Hollywood, his work as a TV and film composer has included the score for the film, "Reform School Girls" (1986) and the Universal Studios dramatic TV series, "Hard Copy" (1987). He has worked as musical director/conductor on the late night CBS TV show "Overtime" with Pat O'Brien and played music on TV shows and movies, including the Oscar winning film "The Usual Suspects."
Siegel began recording his own compositions with his band after graduating from the University of Oregon. He holds a bachelor's of music composition and a master's in jazz studies. He studied piano in Boston with the legendary Madame Chaloff.
Siegel has recorded and performed with a variety of artists including Glenn Frey (The Eagles), Chaka Khan, Berlin, Philip Bailey (Earth Wind & Fire) and the London Symphony Orchestra. He organized Birds of a Feather, a gathering of world-renowned musicians, such as Larry Carlton, Boney James and Ernie Watts.
Siegel has performed in Asia and went to Beijing in 1995 to record and produce China's first jazz band, Tien Square. Siegel 's albums have ranged from the electronic-oriented "Another Time, Another Place" (1984) with Patrick O'Hearn and Alex Acuna (called "the best keyboard-oriented fusion LP of the year" by Keyboard Magazine) to Hemispheres (1995), which features an ensemble of eclectic musicians such as Bela Fleck, Ottmar Liebert and Osamu Kitajima.
"My goal in the classroom is to give students the necessary tools that will enable them to emerge as new music industry leaders," Siegel says. "Several of my students have launched professional careers after completing courses at MiraCosta College. For me, that is the ultimate accomplishment."