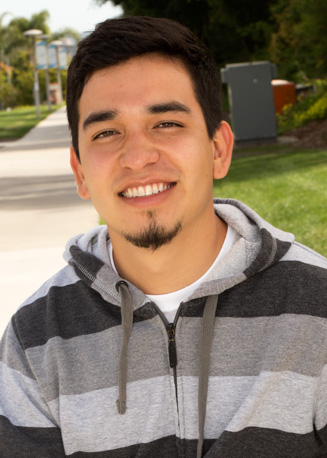 Not everyone who gets shot in the head lives to tell about it, but David Garcia did.
In March 2013, then 17-year-old Garcia was shot seven times including a bullet to his head at Libby Lake Park in Oceanside. Many thought he would not survive. When he did, Garcia considered the traumatic experience a big wake-up call.
"It just made me appreciate everything," said Garcia, who still has nerve damage and bullet particles in his head. "It made me realize that life is just way too short to be doing all of the stupid things I was doing."
Before his near-death experience, Garcia, now 20 years old, was everything but the good-natured student he is now.
In high school, Garcia was straddling between a 1.5-2.0 GPA with a lackluster future ahead of him.
"I was the stereotypical 'bad' teenager. I hated school, partied all the time—you name it and I've probably done it," said Garcia.
After recovering from the shooting, Garcia began focusing his time and energy serving his community. For example, Garcia helped launch the STEP UP mentoring program between Project REACH high school students and Libby Elementary students.
Former Project REACH Libby Lake program supervisor, Jaime Figueroa, commends Garcia for helping with the project.
"David has been a Project REACH Libby Lake student for almost ten years," said Figueroa. "He serves as a youth mentor and speaks at events in San Diego about his story, education, faith and community engagement."
In addition to helping establish the mentoring program, Garcia worked hard to earn his high school diploma. He finished high school in record time by earning 130 credits in one year. In fall 2015, he enrolled at MiraCosta College.
"I'm the first in my family to go to college so it's a little difficult," said Garcia. "I do have mentors that motivate me and the resources here at MiraCosta have been helpful. Especially EOPS, the Tutoring Center and the Financial Aid Office. They all really help with the stress."
Also in 2015, all of Garcia's life-changing efforts earned him Young Latino of the Year by U-T San Diego. The award earned him a $5,000 scholarship to help with college costs.
Today, Garcia follows a faith-driven path that has helped him focus on his goals. While he states life is not perfect, he feels he is stronger now and more in control of his life.
"I'm more motivated to do better things with my life today than I was before I was shot," said David. "I can't say it was the best thing that happened to me, but it definitely changed me for the better and shot me in the right path God wants me to belong."
Garcia's ultimate goal is to permanently escape poverty, live comfortably, travel when he wants, drive a nice car and own a nice home.
"I don't want anything super luxurious, but just something I can call home and live in happily."