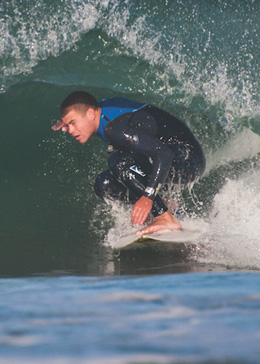 It's sort of like being an all-star on the New York Yankees when they were a dynasty.
When it comes to surfing, few schools have MiraCosta College credentials. And during his two years of college competition, Dayton Silva helped lead MiraCosta to back-to-back national championships, all while winning a few top national honors himself.
"It's just a small little community college, but we had some of the best surfers probably that any college has ever seen," said Dayton. "It was just an awesome time and an awesome experience."
That was back in 2011 and 2012. Dayton went on to earn a journalism degree at San Diego State University and now works as a web editor for Surfing Magazine.
His years at MiraCosta College remain among the best of his young life.
"When I first got there, I was scared it was going to be a little overwhelming being at a college," said Dayton, who primarily attended the San Elijo Campus. "But it wasn't intimidating at all. The San Elijo campus is small, and everyone there was friendly. I felt right at home. And the fact that it was so close to the beach made it more appealing."
Raised in Manhattan Beach, Dayton learned to surf on his dad's board at age 5, and his talent would later land him sponsorships from the likes of Bodyglove, Globe and Electric. But Dayton wasn't looking to compete for MiraCosta College when he moved to Encinitas after graduating from – coincidentally – Mira Costa High School in Manhattan Beach.
"A friend of mine was on the surf team and he invited me to a practice one day," Dayton said. "I met the coach and the guys on the team and then we all went out to surf. The coach kind of watched us, and then later asked if I wanted to join the team. It seemed like a cool way to have fun and make new friends, so I was in."
This wasn't just any surf team. The Spartans won the national championship in their first year of competition and its second title a few years later in 2004. During Dayton's first year with the team, the Spartans added another national championship. Then they repeated the following year.
In 2012, Dayton also won top individual honors at the National Scholastic Surfing Association's National College Championships off Dana Point, along with being named the NSSA's College Surfer of the Year. That same year, he won the U.S. Open in Huntington Beach at the NSSA College Invitational, and over the years he also has competed at tournaments in Indonesia, Hawaii, Mexico and Central America.
"The two years Dayton was with us we had such a stacked team," said coach Rich Langen. "But Dayton just totally raised the bar. At the nationals in his second year, he was phenomenal. It was very fun to watch."
Dayton, 25, transferred to San Diego State University in 2012 and graduated two years later. As web editor at Surfing Magazine he oversees all operations and efforts related to the publication's digital efforts, and he writes, edits and publishes daily content.
"Dayton is such a quiet, unassuming person, but he is really focused," said Langen. "He took a full load of courses, graduated from MiraCosta in two years, got good grades, and transferred to a pretty good university. It wasn't all about surfing. He's a wonderful, all-around person. And now he has a job doing what he loves doing."
Dayton remains committed to MiraCosta College.
"I'd say 80 percent of the friends I have today I met through MiraCosta College," said Dayton. "I also connected with a lot of professors. And I'd say I definitely got the same level of instruction that I did at San Diego State but in a more intimate environment."