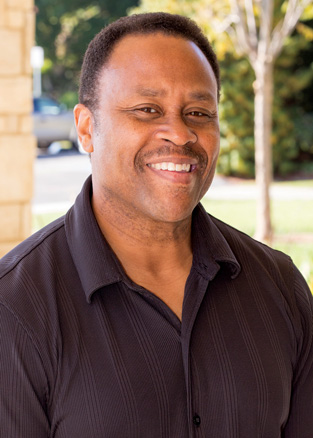 As a high school senior, Don Love didn't have much of a clue when it came to college. It never came up once with his counselors, leaving him without any knowledge about financial aid or how to apply to a postsecondary school. Mapping out an educational plan? That topic had never been broached.
All of which explains why Love, who is transforming lives as counselor/coordinator of both the Umoja and Summer Bridge programs at MiraCosta College, is so committed to helping students from underrepresented communities make the transition to college and ensuring that anyone has the opportunity to be surrounded by a strong system of support and community once they get there.
"My primary purpose for getting into education was to help solve issues of equity for students with backgrounds and stories similar to mine," he said.
Students and colleagues praise him for his work.
"Don's dedication is beyond reproach," said Dr. Howard Irvin, MiraCosta College's for Summer Bridge coordinator who now serves as vice president of Student Services at Los Angeles Southwest College. "He is absolutely top of the line in what he does. His commitment to MiraCosta College, the students, and to the larger community is second to none."
Summer Bridge is a free six-week program designed to ease the transition from high school to college. In the weeks before they begin their studies at MiraCosta, Summer Bridge students enroll in an Orientation to College course and Sociology 101, with an emphasis on the African-American experience and sociological perspectives. Umoja is a program committed to enhancing the cultural and educational experiences for and increasing the persistence and retention rates of African-American and other students of any age through peer mentoring, career and academic counseling, developing leadership skills, and more.
Both programs have been shown to raise student success and retention rates. Programs like this didn't exist when Love was graduating from Kearney High School in San Diego.
A defensive back in high school, Love made the transition to San Diego Mesa College after being approached by team's football coach. The football staff helped sign him up for the classes he would need to take and helped him complete an application for financial aid. After he suffered an injury that left him unable to continue playing, Love was on his own in trying to navigate his way toward a degree.
"I didn't really know what I was doing, and I no longer had the guidance of the football staff to hold my hand through the enrollment or financial aid process to keep me on the road to transfer. I eventually lost my financial aid after withdrawing from too many classes.
Love ultimately earned an associate degree at Mesa and later transferred to San Diego State University, but the continuing lack of direction and financial aid led him to drop out after just one year. "Once I lost my financial aid I didn't know that I could appeal or apply again," he said. "I didn't know about a lot of resources that were available."
Love would go on to work at a San Diego-based audiovisual systems integration company, eventually rising to the rank of sales manager and earning a bachelor's degree in computer networking along the way. But after 15 years with the company, he decided to leave.
"I sat down and asked if I could see myself doing this for another 20 years, and I couldn't," said Love. "I had friends working in the education field, and that was something that really appealed to me. So I started going in that direction."
Especially after watching his college-bound nieces go through struggles similar to the ones he endured a generation earlier. "It was disappointing to watch as members of my own family go through the same challenges I did," Love said. "I decided that a career in education would be the perfect move to position myself to affect change for African American and other underrepresented students."
His first step came in helping Irvin, a good friend and mentor, when Irvin was MiraCosta College's Summer Bridge coordinator.
"Don was interested in this line of work and so he would help me visit the high schools and what not in doing outreach for the Summer Bridge program," recalled Irvin. "You could see the light go on and you knew this was what he was going to do and what he was going to excel at doing."
When Irvin left MiraCosta College in 2007, Love - who had earned a bachelor's degree in organizational leadership from Azusa Pacific University a year earlier - was hired as his replacement. Five years later, he was hired as a counselor and coordinator for the Umoja program. Today, he also serves as a regional coordinator for the statewide Umoja program in addition teaching college and career success courses at Grossmont College in El Cajon.
Among Love's fans is Edwina Williams, a former dropout whose fortunes turned around after enrolling in the Adult High School Program at MiraCosta College and who went on to earn an associate degree, a bachelor's degree, and a master's degree.
"Don Love played an instrumental role in my academic journey," Williams said. "When I was a MiraCosta student, Don was one of the few people who encouraged me to pursue a transfer degree. I will never forget the question he asked me after commencement, 'What's next?' This question still resonates with me. This very question led me to strive for bigger and better life opportunities and now I am an associate faculty member here at MiraCosta working alongside Don in the Umoja program."