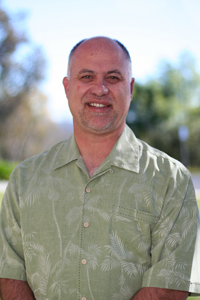 Director of Retention Services
Edward Pohlert is a man who wears many hats. "I am a mentor, counselor, administrator, and faculty member," says Edward. As faculty director of MiraCosta's Retention Services: Tutoring and Academic Support Center, Edward moves between many different responsibilities and often finds himself drawing upon his own diverse background to fulfill the diverse needs of the college and its students.
Edward was born in Amsterdam and immigrated to California 48 years ago. Coming from Dutch and Indonesian parents, he was raised in a multi-ethnic household. Subsequently, Edward obtained a deep appreciation for cultural diversity. He has traveled extensively and speaks several languages including English, Dutch, Indonesian, and Spanish.
As the first in his family to graduate from college, Edward takes pride in his education and has dedicated his career to academics. Edward has a counseling master's degree from San Diego State University and a bachelor's in social work from California State University, Los Angeles. He has also completed his psychology doctorate in Culture & Human Behavior from Alliant International University.
"I have a thirst for education," he explains.
Edward's thirst for education extends to MiraCosta students as well. In his position, Edward ensures that all MiraCosta students have the opportunity to advance their education through free tutoring and academic support services.
"Retention Services provides 1:1 and group tutoring, online tutoring, student success workshops, facilitated learning sessions and more," says Edward. "Our services help students make sure they can realize academic success."
For the past 35 years, Edward has served as a role model to students on multiple college campuses. A community college graduate himself, Edward says that he felt that he was "coming home" when he accepted the position as Retention Services faculty director at MiraCosta.
"I love it here," says Edward. "The support we offer for the students is not just all talk. We walk the walk. We help students succeed. MiraCosta is exemplary and unique."