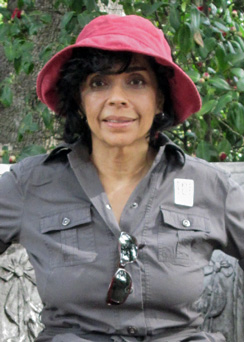 When life provides you with lemons… analyze its nutritional properties, make salad dressing, and use that opportunity to happily share a meal with your loved ones.
Elazar Rosa transferred from MiraCosta College in 2014 and was accepted to SDSU to pursue a bachelor of science in foods & nutrition. An aspiring naturopathic doctor, Rosa sought to use her experiences to help extend the lives and health of others.
"This letter confirms that she [Rosa] was accepted to San Diego State University for the Fall 2017 semester into our highly competitive Foods and Nutrition program at the School of Exercise and Nutritional Sciences. Our Foods and Nutrition program offers a comprehensive multidisciplinary study of the nature and quality of the food supply and the nutritional requirements for health in people. Seeing that Elazar had a passion for health and nutrition, a desire to become a Naturopathic Doctor, and a drive to help others maintain a healthy lifestyle, she would have made a meaningful contribution to improving the health and well-being of many people. With her determination in continuing her studies in higher education, we would have been pleased to have had her as not only as a San Diego State University student but as a member of the School of Exercise and Nutritional Sciences as well" writes Dr. Matthew T. Mahar Director, School of Exercise and Nutritional Sciences at San Diego State University.
Born in Venezuela, Rosa and her family moved to Michigan when she was five. She quickly learned to read and developed a fond appreciation of poetry, arts, and music.
Rosa would be the first to admit that she didn't excel in many of her studies and often struggled when she was young. However, this did not stifle her desire towards learning, or from developing the strength that would propel her forward – namely, her altruistic heart.
Unlike many high school girls upon graduation, one of Rosa's top goals was to adopt a child she had spent years helping to raise. Losing this opportunity, among other experiences, drove Rosa to move to California and independently work towards a new chapter in her life.
Proudly becoming a US citizen in her twenties, Rosa soon found a home in the UCSD system, working as an administrative assistant to multiple deans at Earl Warren College. She was quickly recognized for her talents and was not only able to rediscover her own passion for learning, but how to support learning styles across multiple ages.
Rosa eventually taught her own two children to read at an early age, and rechanneled all of her learning growth into their curricula, field-trips, records, and extracurricular activities. Always a story teller, she loved to share and communicate about many academic subjects.
After her children graduated high school at early ages–her daughter graduating at 14 and her son being awarded MiraCosta's Medal of Honor award at the age of 19–Rosa turned her focus to completing her own formal education. Taking advantage of all aspects of student life MiraCosta has to offer, Rosa got involved as a Spectrum Jazz vocalist in 2012 and the Service Learning program. From her contribution and involvement in the local community, Rosa received an award in 2010-2011 for her volunteer work at the Museum of Making Music in Carlsbad, CA.
As she approached graduation at MiraCosta, Rosa was in full student mode: a single mother working a part-time job in between classes to support her education and pay the bills. However, her ability to transfer was delayed by a devastating workplace injury which left her with a spinal disability and fewer resources.
At the start of 2017, life dealt another tragedy. Rosa was diagnosed with a rare autoimmune disease, Vasculitis (C-ANCA), which manifested without warning and caused her body to rapidly damage its own critical renal and pulmonary functions. She battled for her life in the hospital for eight weeks with the continuous support of her son and daughter, both who are continuing their college studies and work for MiraCosta at the time of this writing.
Rosa's son, Brydon Bacaycay, is familiar with many of the external challenges faced by students with disabilities – he works for MiraCosta's SAS department in charge of the assistive technology computer lab and learning support tools. However, nothing could prepare him for the rapid speed at which his mother's health could deteriorate in a span of hours, and the complications that the hospital ICU teams struggled to keep up with.
"By the last two weeks, she effectively faced many categories of disability. She couldn't speak, write, signal with her hands, breathe on her own, recall recent conversations, nor had enough strength to even move her facial muscles."
To help inspire others, Rosa adamantly planned to write an autobiography about perseverance and improving one's wellbeing despite adversity. Unfortunately, after eight weeks of extended complications and courage, Rosa suddenly passed away before she could begin writing her unique story and resume classes.
Rosa's daughter, Jair Bacaycay, described her mother in the following way:
"My mother was almost inhumanly generous and resilient in the face of more hardships than can be shared with limited words. Due to many health and other challenges that she overcame throughout her life, she was highly knowledgeable of the health field and natural healing—despite lacking formal certification. She was incredibly generous with this gift: always freely helping, offering advice, or being encouraging when possible. Though she came and left this earth with humble means, she lived her life with an air of gratitude and honest conviction—a life that she and those who love her could be proud of—akin to the words of her favorite poem by Emily Dickens: "If I can stop one heart from breaking, I shall not live in vain…"
A compilation of condolences and memories from MiraCosta faculty/staff who knew Ms. Rosa, is planned, to be posted at a later date.