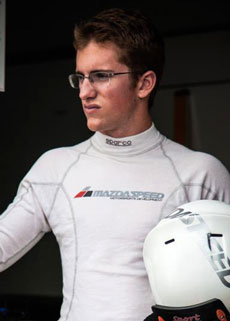 Carlsbad resident and MiraCosta College student Elliot Skeer got his start in motorsports in 2001 at the young age of 6 racing go-karts. By 2010, he progressed through the ranks and raced as a Touch-and-Go (TAG) senior at a national level with seven regional championships, one national championship, and more than 60 wins under his belt.
By the age of 16, fresh from earning his driver's license, Elliot won his first professional race at Mazda Raceway near Salinas.
Now, Elliot is racing Porsches with even bigger championship ambitions.
"I've been in motorsports all my life," said Elliot. "My parents noticed an interest at a young age when I was playing with Hot Wheels or pointed out cars while (we were) driving down the street."
In October 2014, Elliot was picked by Porsche to participate in the Porsche Young Driver Academy, where his skills were evaluated inside and out of the car. At the end of the day, one of the candidates was picked to race a Porsche in a certain series for a whole year.
"I couldn't have been more excited to be picked out of all the candidates—it was surreal," said Elliot.
He isn't through. Later this year, Elliot will race in IMSA GT3 Cup Challenge USA by Yokohama with Wright Motorsports in hopes of taking the podium in every race. The IMSA GT3 Cup Challenge USA features semi-professional drivers racing head to head in the largest single-make series in North America.
"It's been one of my life goals to be successful in motorsports," Elliot said. "But I also want a college degree because it is important."
Elliot stayed close to home, enrolling at MiraCosta College as a business major in 2013.
"I love all my classes and I am really enjoying being here at MiraCosta," Elliot said. "There's also a lot of interaction between the students and instructors. Everyone is here to help you and it makes going to college fun."
Elliot will transfer to Cal State San Marcos in fall 2016 to earn a bachelor's degree in business. He also plans on pursuing a career as a racecar driver.