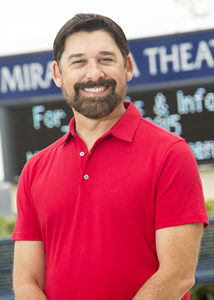 Professor, Department of Theatre and Film
MiraCosta College's Theatre Department has been building a reputation for excellence and Eric Bishop's experience and vision is a big reason why.

Bishop is the chair of the Theatre Department whose students regularly excel in regional competitions and have matched up well with university and graduate students. MiraCosta College students have been invited to the Kennedy Center in Washington D.C. and have won national awards and scholarships in acting, stage management and playwriting. "We have done so well so well in these theatre competitions that we are often mistaken for a private college," Bishop said.

Bishop, who earned his master of fine arts degree from California State University, Fullerton, has been teaching theatre on the community college/university level since 1992 and came to MiraCosta College in 2000 from Utah State University.

"I saw coming to MiraCosta as an opportunity to build a program that exudes professionalism and trains students to be ultra-prepared for the next level whether it be transfer or joining the professional ranks," he said. That has happened, Bishop said, thanks to recruiting a talented group of professors in the department that has made MiraCosta College Theatre the envy of many a community college.

Everybody in the department is a working professional. Bishop's directing credits include work at Moonlight Stage Productions in Vista, Ion Theatre in San Diego, Scripps Ranch Theatre, La Jolla Stage Company, Carlsbad Playreaders, and Allenberry Playhouse in Pennsylvania. His productions of "Fuente Ovejuna" and "Heartland" were Kennedy Center/American College Theatre Festival regional finalists in 2006 and 2009.

As a professional actor, Bishop performed with several regional theater companies including the PCPA Theaterfest in Santa Maria and the North Coast Repertory. He also serves as a governing board member for the Kennedy Center American College Theatre Festival.

He is especially proud of being a founding member MiraCosta College's summer conservatory program, The Actor's Academy, "where we teach advanced acting techniques and bring in professionals from all over the country."

Bishop said the key to MiraCosta College Theatre's success is the "emphasis on creating ensemble and while not inflating egos."

"We hold high standards of professionalism, and we find that if we set the bar high, our students will consistently rise to the occasion," Bishop said.