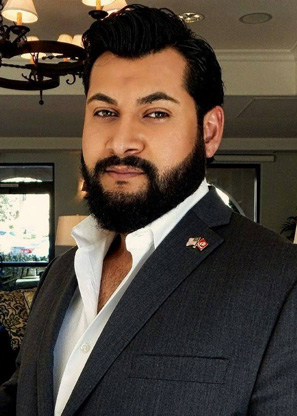 Anyone questioning the impact MiraCosta College has on transforming lives need look no further than Fernando Bennet.
A decade after he dropped out of high school for a job to help his mother make ends meet, Bennet, the son of an undocumented immigrant, is graduating May 26 with a nearly flawless grade point average from MiraCosta College and transferring to Columbia University in New York to pursue a bachelor's degree in financial economics. From there, he plans to become the latest MiraCosta College graduate pursuing a law degree.
His ultimate goal? A congressman affecting change in the nation's immigration policy.
"Latinos are severely underrepresented in Congress, which is one of the reasons Congress has failed to act on issues of immigration," said Bennet, a former senator in MiraCosta College's Associated Student Government.
Bennet understands more than most the complexities surrounding the immigration debate. "My mother, a teenager at the time, struggled for many years to no avail to enter the United States legally, and finally, at her eighth month in pregnancy, out of desperation, she made the treacherous, life-risking journey across the border so that I may be born a U.S. citizen," he said. "As the child of a single-parent, illegal-immigrant home, I grew up seeing first-hand the challenges facing those who come from impoverished communities and immigrant households."
Rick Cassoni, a computer studies and information technology professor, said Bennet represents the best of MiraCosta College.
"Fernando's tenacity has allowed him to overcome so much and do some amazing things," Cassoni said. "He has a hunger for doing well, he is focused and he will not let anything get in his way."
It hasn't always been so. Bennet's mom toiled long days cleaning houses and working as a waitress while raising a child as a single parent. "We grew up very poor," Bennet said. "We had nothing."
Motivation for school also was lacking. Bennet's grades so bad, he wasn't able to take part in his middle school promotion. High school wasn't much better. Lacking direction, he dropped out and started working a variety of minimum wage jobs to help put food on the table.
His life changed when he resolved to enlist in the Marine Corps. Bennet put his life on the line expressing, "I wanted to give back to the country that had given my family refuge and had given us a home. I had a duty to contribute."
A recruiting officer, though, told Bennet he would first have to pass both a high school exit exam and 15 units of courses at a community college. Only after completing the required courses at MiraCosta College did Bennet become a Marine. From 2010 to 2015, he served first as a ground communications technician, then in the Marine Corps Special Operations Command.
When he left the armed forces, Bennet headed straight back to MiraCosta College. He was 23 and determined to excel. Mission accomplished. Bennet was part of the college's Honors Program, the Phi Theta Kappa Honor Society, the Associated Student Government, and the Emerging Leaders Institute.
He had no choice. To reach his dream, Bennet would need to stand out. But give a Marine a challenge, and he or she is going to meet it. Bennet knew admission to the top universities in the country would require a GPA of nearly 4.0 or higher. This past fall semester, that meant 24 units of straight A's taking challenging courses. When the college acceptance letters began arriving, the response was overwhelming. UC Berkeley. UCLA. UC Irvine. UC San Diego. All welcomed him. He chose Columbia University instead.
Said Bennet: "I'm inspired to one day serve as a U.S. Senator and ensure that underrepresented and disenfranchised communities have a voice in the public policy-making process. I yearn in leading those within the Veteran community toward a more prosperous representation within government, and those within the Latino community out of fear, so that they may have a better life, and a more fruitful future."
Bennet said he owes his success to MiraCosta College.
"MiraCosta College is there for you," Bennet said. "The support for veterans is beyond compare. So many professors and so many counselors have either served or have family who have served in the military and understand the challenges that veterans face. But beyond that, the campus provides a welcoming environment to people of all backgrounds, no matter where you come from. In addition, MiraCosta offers an abundance of tutoring, from both faculty and students, that makes an extraordinary difference. MiraCosta College has helped change my life."
Bennet though, is not thinking about himself. "I hope my story will help inspire others to know that they, too, can overcome seemingly insurmountable obstacles and reach their dreams."
Said Cassoni: "I am so excited for Fernando. I would not be surprised at all to one day see him as a U.S. congressman or U.S. senator."