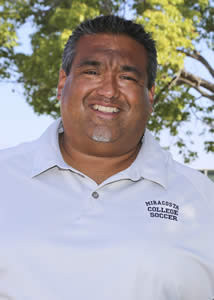 Men's Soccer Head Coach
Frank Zimmerman has won plenty of awards. He once led Oceanside High School to a CIF Division II title and helped take another team into the state finals. But ask the MiraCosta College men's soccer coach what matters most to him and he'll tell you it's making sure his players develop into responsible adults.
"I want to help create or build young men of excellence so when they leave our program they are better young men, better fathers, better husbands, better employees, better people," said Zimmerman, who is active with the Fellowship of Christian Athletes.
Not that winning isn't important.
"Of course you want to win," Zimmerman said. "But we take a family-first approach."
It's an approach that has worked for years. Zimmerman has coached soccer for a quarter century, with his teams making 16 straight playoff appearances in three different divisions. He has been the head coach at Oceanside High School for the past 16 seasons, as well as the director of coaching for the Soccer Club of Oceanside, also known as the Oceanside Breakers. He also served previously as an assistant coach at Palomar College, and he was at the San Marcos school when it went to the Junior College State Finals in 1996.
Awards include CalSouth Nike Youth Soccer Coach of the Year in 2008, CIF San Diego County Soccer Coach of the Year in 2006, and North County Times High School Male Sports Coach of the Year in 2002.
"He's one of the top soccer coaches in San Diego County," said Bill Reitman, president of the Oceanside Breakers. "He's also a tremendous people person who is an excellent leader. And he's not only about making kids into better soccer players, but making kids into better human beings."
MiraCosta College Athletic Director Patrick Conahan agrees. "He understands the importance of developing the whole person. He's very, very connected to the Oceanside club soccer scene, which is one of the major building blocks for our program."
Zimmerman, who served previously as the assistant coach for MiraCosta College's women's team, was hired to take the helm of the men's team in December.
"We've hired the best coach we could ever hope for," said Dan Mulville, MiraCosta College's athletic director at the time.

He will try to improve on a squad that last year started off strong, going 3-1-4 in its first eight games, but hit a few bumps at the end to finish 4-7-8. The team fielded a trio of all-conference players in sophomore Danny Calleja, freshman Angel Ruiz, and freshman Nelson Wright.
Zimmerman said he began playing soccer when he was about 8 years old and came down with pneumonia a few times within a couple years. Doctors suggested he build up his lung capacity, so he began playing with the Oceanside Breakers youth organization.
"When you run five to six miles per game, it really helps build up your lungs," said Zimmerman, whose oldest child, Frankie Jr., plays soccer at San Diego Christian College.
A native of Oceanside, Zimmerman graduated from Oceanside High School and MiraCosta College, and he played on the soccer team at both schools. He earned a bachelor's degree in vocational education at San Diego State University, and now teaches digital video communications and runs the audio-visual department at Oceanside High.
"It's a privilege and an honor to be part of MiraCosta College," he said.