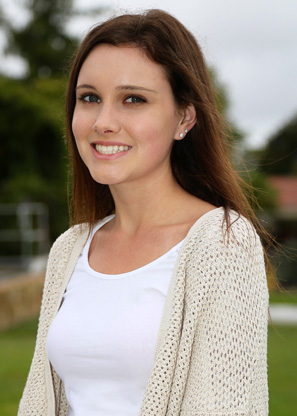 Jackie Riley loves MiraCosta College so much, the Del Mar resident – who had already earned an associate of arts degree – decided to return to the school even after transferring to UC San Diego and securing a bachelor of science degree in clinical psychology.
And why not? When Riley decided to take a few pre-requisite science classes before applying to medical school next fall, MiraCosta College was the obvious choice.
"I know the people here, it's a great school, I'm comfortable with the college and it's economical," she said.
Riley first began taking classes at the San Elijo Campus after graduating from Torrey Pines High School in 2012. "I really didn't know what I wanted to major in or what I really wanted to do, so it didn't really make sense spending all that money going to straight to a four-year college," Riley said.
It was during a second-year psychology course at the Oceanside Campus that she found her calling and a future career as a clinical psychiatrist. Meanwhile, wanting to become more involved at MiraCosta, she was hired as a student ambassador pitching the benefits of the college to students at Torrey Pines High School.
"There are a lot of students there who really don't know what their options are or who really don't have their minds made up, and I was there to help them find their path," Riley said. "It was great representing MiraCosta College, but if they wanted to do something else, I was there to help them get there."
It was that kind of attitude that impressed her co-workers and others in the Student Ambassador Program.
"Jackie is an amazing role model and a wonderful person," said Lisa Montes, a student services specialist in the Office of School Relations & Diversity Outreach who supervised Riley and remains close to her former protégé. "Her excellence reflects both the college and the community."
Riley graduated from MiraCosta in 2014 and graduated from UC San Diego last spring. Now she's back at MiraCosta College for her post-bachelor's degree work taking courses in organic chemistry, general chemistry and physics before applying to medical school.
"It's funny because sometimes I think of myself more as a graduate of MiraCosta than as a graduate of UCSD," she said. "MiraCosta is such a welcoming community."
Her goal is to work with children as a clinical psychologist.
"I have no doubt she'll succeed," Montes said.