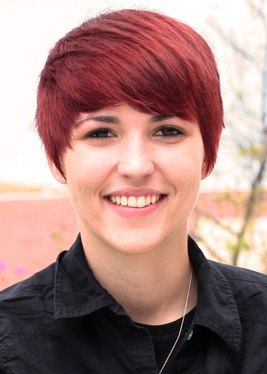 While she cannot say she had a horrible childhood, Jamie Cook can say she did not grow-up in a typical and well-structured household.
Originally from La Verne, California, Jamie's parents divorced when she was four-years old, and with the lack of structure in the household, Jamie soon fell behind in her classes, continually disrespected her parents and associated with people who used drugs.
As a teen, Jamie dove into drugs and alcohol herself, eventually leading her to trouble with the law. "I became a lost and out-of-control teenager," Jamie says. When she turned 19, however, Jamie realized she did not want to go down the same path as her friends and so she quit drugs and alcohol. "I realized that I had to get out of that lifestyle as soon as possible," Jamie says.
She quit drugs and alcohol, and by the age of nineteen she was finally free from it all. "I live a much better life now, full of responsibilities and facing life's problems head on instead of masking them with drugs." In 2008, Jamie's father took his own life and the devastating loss was the culminating event that gave Jamie the motivation to find purpose in life. "In an attempt to overcome my own depression, I enrolled in college," Jamie says.
Upon enrolling in community college in 2009, Jamie decided to focus on psychology, as it was not only an interest of hers, but also a passion. Since childhood, individuals with various types of mental illnesses, disorders or addictions surrounded Jamie. This made her want to understand the cause of their destructive minds, and studying psychology was the way to do so.
Jamie enrolled in three different community colleges to begin her studies in psychology. "In my decision to go to college and further my education, I left behind the comforts of home, free rent and food," Jamie states. The three community colleges did not offer assistance for lower-income students and soon, Jamie found herself working two jobs just to feed herself and keep a roof over her head, and at times felt like she needed to focus on work, but reminded herself that education was more important. This then reignited her motivation to succeed in her studies.
In 2010, Jamie enrolled at MiraCosta College and was a full-fledged student until graduating in spring of 2012. One of her psychology professors at the college, Lisa Fast, connected really well with Jamie. "She is incredibly bright, confident yet humble and unassuming, sincere, and a joy to be around. I am honored to know Jamie and I'm excited to see the great things she will accomplish in her life," Lisa says.
In addition to excelling in her classes, Jamie also took part in various organizations such as the MiraCosta College Gay Straight Alliance Club (GSA), North County Gay and Lesbian Resource Center, Los Angeles Gay and Lesbian Center and American Foundation for Suicide Prevention, where she shared her story to strangers about the loss of her father and helped raise over $500 for vital research, education programs for suicide prevention, mental health awareness and assistance for survivors of suicide loss.
During her search for more ways to fund her education and her personal expenses, Jamie applied for the Jack Kent Cooke Foundation Undergraduate Transfer Scholarship that no MiraCosta College student has ever before received. In the process of completing the application, MiraCosta College Financial Aid and Scholarship Specialist, Diane Danielewicz, learned of Jamie's life experiences and struggles. "Jamie and I worked closely together when she applied for the scholarship. The application process is very detailed and students have to submit personal essays about themselves. It was then I became aware of the experiences and life struggles Jamie overcame to be where she is today. I was impressed with her openness to suggestions from both Professor Christopher Sleeper and myself about her application and essays," Diane says.
In late April 2012, Jamie received the news from Diane that she had received one of the Jack Kent Cooke Foundation Undergraduate Transfer Scholarships. Awarded to only sixty scholars out of the 700 that applied, the JKC scholarship awards up to $30,000 per year, up to three years, for a student to achieve a bachelor's degree. When Diane was given the news, she "felt like a proud parent when I received the e-mail stating that she had won the amazing scholarship" Professor Fast adds, "The JKC Scholarship could not have been awarded to a more deserving person. Jamie is a rare individual."
For Jamie, receiving the scholarship was about much more than money. "It meant that someone, somewhere out there, wanted to hugely invest in my education because they believe in me. It meant that the goals I have, the academic path and career that I want to pursue, are important enough for the JKC Foundation to think, 'Hey, we need to help this girl go far because she will be important in this world.' That in itself, without the money, is enough of a push to crave success no matter how financially possible it is or not," Jamie says. Moreover, with the JKC Scholarship, Jamie can finally concentrate on school, possibly get more involved with school activities, internships and volunteering, all without having to worry about making ends meet every month and having financial stress and loan repayment after finishing her undergraduate studies.
After Jamie finishes her undergraduate studies from University of California, Riverside, she hopes to one day acquire a doctorate degree from the University of California, Berkeley. Jamie states the bright future ahead of her would not have been possible if it weren't for MiraCosta College. "I have so many good things to say about MiraCosta College… I have never heard or seen anything close to what MiraCosta College offers," Jamie states enthusiastically. "First, there's free tutoring, which is awesome! Second, Student Health Services literally became my new doctor's office. Without insurance, I was able to get the medical attention and counseling I needed at an extremely low (if any) cost. Third, MiraCosta College offered me food from the food pantry provided by Service Learning, which held me over for a few weeks when I did not have enough money for food. The Extended Opportunity Programs and Services (EOPS) helped pay for my textbooks, while Financial Aid helped me pay for my classes. Lastly, Diane from the scholarship office helped me receive several scholarships."
In addition, Jamie sincerely thanks each professor she has encountered at MiraCosta College. "The faculty and staff are an incredible aspect of MiraCosta College. Every single professor I had was wonderful, passionate, informative and helpful. Two of my professors, Jim Sullivan and Lisa Fast, were my mentors throughout my two years at MiraCosta College, and are people I hope to stay in contact with forever. These professors, and many others, gave me confidence, taught me to love learning, and molded me into a responsible and educated young adult," Jamie says.
Jamie believes that deciding to go to MiraCosta College was the root to her current success, which will flower and bloom beautifully in ways that even she cannot imagine.
The hard-working and dedicated person Jamie is today would not have been possible without the former life she lived. Jamie states she wouldn't be a "much stronger person physically, mentally and would not have been driven towards a better life today had I not overcome the hardships I endured growing up." Jamie believes she can do anything if she sets her mind to it. "Getting a good education is worth every sacrifice, because it will pay off in the end—not only financially, but also emotionally and psychologically."
"I have no doubt that I will be calling her Dr. Jamie Cook someday," Diane proudly states.
Jamie admits it was a very difficult road to get to the place where she is now, but she always believed. "The hardest thing to do is believe in yourself, but once you can do that, others will believe in you too. That's when everything you work so hard for begins to take shape and present itself. Work hard, focus on what you want, never be afraid to ask for help, and dream big. If I can do it, so can you."