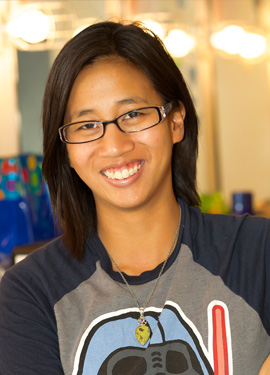 A high school teacher once told her she would never be able to do anything with a degree in arts or worse, make a living out of it. Well now, she can prove that high school teacher wrong.
Leodones, a 2010 MiraCosta College graduate in dramatic arts with an emphasis in technical theatre,was one of 15 contestants on season eight of Syfy network's popular reality competition show, "Face Off". Contestants in the show transform models into mutants, goddesses and human and creature hybrids in a quest to win prize money and fame.
Leondones' journey into stage make-up began in 2002, when the then-music-major took a MiraCosta stagecraft class and switched her major to technical theatre.
"In order to earn the technical theatre degree, students have to take the stage make-up class, which I didn't want to… but I had to," said Leodones.
While Leodones had some experience in sculpting, drawing and painting—applying make-up to a face was completely new to her.
"I don't wear make-up in general so I was kind of scared," Leodones said. "Then I realized make-up was just like painting, but on the face. It just clicked."
In 2003, Leodones began to work as a make-up and hair designer for various MiraCosta College theatre productions, including 1940s Radio Hour, Once Upon a Mattress, The Matchmaker, Charlie's Aunt, Once on this Island, As You Like It, and Twelfth Night.
Along with schoolwork and responsibilities in the theatre department, Leodones also worked a paid job off-campus.
"I had no idea that I could even qualify for any type of scholarships that were offered," said Leondones, who applied for a number ofscholarships and was awarded the MiraCosta College Spotlight Circle Merit Award, MiraCosta College Theatre Merit Award, MiraCosta College Theatre Arts Foundation, MiraCosta College Theatre Arts Merit Award and MiraCosta College Theatre Arts scholarships. "Scholarships ended up being a huge influence in me being able to balance work and school. Earning scholarships helped me take on less hours at work and focus on school, rehearsals, and homework."
Leodones encourages current students to apply for scholarships. She also hopes to someday donate to the MiraCosta College Foundation.
"Money should not have that kind of power to stop someone from accomplishing their goals educationally and professionally," Leodones said. "If I could ever make someone's life a little easier by offering a scholarship, I would do it in a heartbeat."
After graduating from MiraCosta College, Leodones moved to Los Angeles to attend Cinema Makeup School and gain more experience in the field. In recent years, she expanded her technical skills to special effects make-up and auditioned for "Face Off" in early 2014.
"I waited a really long time to find out if I got in to the show or not," Leodones said. "When I heard the news that I was cast, I was so excited I couldn't contain myself!"
Though Leodones' talent took her to prime-time television, she still credits the MiraCosta College Theatre Department and art professor, Yoshimi Hayashi, for helping her discover her passion and hone her craft.
"This industry is hard and you need to be able to have friends and family who you can continue to lean on and ask help from and encourage you—and I found that at MiraCosta College," Leodones said. "I've also learned from my MiraCosta family that sometimes it is okay to let go of your art and just keep moving forward no matter what, but you need to learn throughout the way and take those lessons as they come, keep having faith and just keep following your dreams."