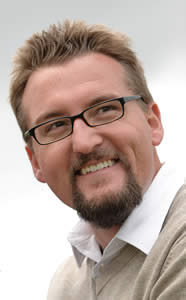 MiraCosta College English Professor
MiraCosta College English professor Jason Williams strives to expand his curricula by teaching students to recognize ecological issues, as well as identify solutions. Jason has worked in journalism and is an advocate for sustainable farming and foods. He started his education at Grossmont College located in San Diego and then transferred to San Diego State University (SDSU), where he majored in English and psychology. At SDSU Jason worked as managing editor of the student newspaper, The Daily Aztec.
After graduating from SDSU, Jason moved to New York to attend New York University. He earned a master's degree in an interdisciplinary program of humanities and social thought with an emphasis in philosophy and journalism.
While a graduate student, Jason landed a position working at Psychology Today Magazine, writing short articles. The New York Times used his graduate thesis on anonymous source use for an article. Jason also continued to work for several papers and magazines doing freelance journalism.
In search of more stable work, Jason moved back to San Diego. He reconnected with the chair of the English Department at Grossmont College, who recommended he start teaching. In spring 2005, when he was just 25 years old, Jason started teaching English part-time at Grossmont. From there he began applying to other community colleges, including MiraCosta College, where he has taught classes since fall 2005.
"I think MiraCosta College is a good fit for me because of the staff, the beauty of the campuses, the great course offerings, longer classes for more material, and the ability for me to teach English 100-201," said Jason.
Jason also teaches a unique version of English 100, which many students have enjoyed taking. It has the same set-up as other English 100 classes, except for its unique focus on human ecology.
"This gives students the opportunity to learn more about the world around them while writing. We were able to read, write and discuss topics like the environment, sustainable and organic food, and conservation issues and solutions," said former English 100 student Brittney Smith.
Jason spends most of his free time gardening with his family and visiting farmer's markets to support local organic farms and foods. In class, he emphasizes the importance that the environment and food has in our everyday lives and how students can improve their understanding of human health.
A large part of Jason's life is advocating for environmental and sustainable food. He also loves sharing his knowledge about environmental issues and solutions as much as possible, with as many people as possible. Fun fact: at one point his wife and family had two chickens that provided fresh eggs for the family weekly.
"I believe encouraging people to grow their own food and to become more informed about where their food comes from is a benefit to the community as a whole."