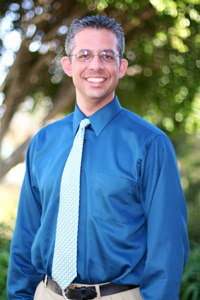 Director of Student Activities
Jim Gonzales has been active in student activities and affairs since he was a student at DeAnza Community College in the late 1980s. While at DeAnza, Jim served as student trustee, student ambassador, and Associated Student Government vice president of finance. Through these experiences, Jim learned valuable lessons about leadership that he still uses today as director of student activities at MiraCosta College.
After Jim graduated from DeAnza with an associate degree in liberal arts, he served in the Marine Corps Reserves and then transferred to Santa Clara University where he earned a bachelor's degree in history and a minor in philosophy.
In 1994, he was hired as the coordinator of student services at MiraCosta's San Elijo Campus, where he worked for three years.
"This experience was wonderful," says Jim. "I had worked in student affairs as a student, but as a staff member I was able to see the experience from a different perspective."
In 1998, Jim accepted the position of director of student activities and moved his office to the Oceanside campus, where he is currently located. Since his tenure as director, the number of student clubs on campus has tripled, the campus has a weekly student newspaper, and the Associated Student Government has grown both in number and in activities.
Since coming to MiraCosta, Jim has earned a master's degree in history. He has also instituted programs that provide students with opportunities to improve their own educational and leadership skills.
"I love student affairs and student development," explains Jim. "I love MiraCosta because I've had the support to develop programs in a way that has met the vision that I have had for students."