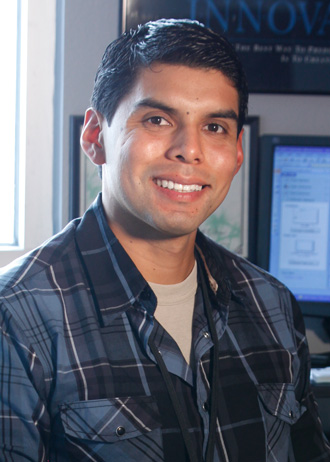 It wasn't that long ago that Jimmy Figueroa's life was going nowhere. The people he was hanging with were in and out of juvenile hall. Some were felled by gunfire. He figures his grade-point average through middle school was somewhere around 0.0. High school wasn't much better.
"I never went to school," he said. "I was just getting high and hanging out with my friends."
Then he found MiraCosta College.
The way Figueroa tells it, his life changed after his mother began taking English classes at the college's Community Learning Center and urged him to enroll there, too. Suddenly, the high school dropout discovered a support system that was lacking all of his life, with teachers and counselors encouraging him to earn his GED and his high school diploma. Next stop was MiraCosta College's Oceanside Campus, where Figueroa would become an honor student and earn an associate of arts degree. From there he secured a scholarship to study in the hallowed halls of UC Berkeley, where he would leave with a bachelor's degree in political science.
Now a coordinator for a North County youth development program called Project REACH Libby Lake, Figueroa has his sights set on law school.
"MiraCosta College became my bridge to the rest of the world," Figueroa said. "It provided me with the support and the opportunity to do so much. It changed my life."
As compelling as his story is, Figueroa's odyssey is not unique. In fact, MiraCosta College provides an open door to higher education for all, ensuring that any student with desire and drive can attend college. Walk around MiraCosta College's three campuses and you can find scores of students from backgrounds similar to Figueroa's. They're learning with thousands of others who have myriad family histories, on their way to earning degrees that will firmly ensconce them into productive lives and well-paying careers.
"Like others who attend MiraCosta College who were never considered 'college material', Jimmy's story is testimony to the power of resilience, self-determination, and hope," said Dr. Francisco Rodriguez, chancellor of the Los Angeles Community College District. "His journey is inspiring and he is a role model for so many young men and women who desire a better future."
Lisa Montes serves in the Office of School Relations and Diversity Outreach. She worked closely with Figueroa during his tenure at MiraCosta College.

"Jimmy is an example that anything is possible and that the possibilities are endless," she said. "He was persistent, and his persistence is why he is where he is now. He did a 180 with his life when he came to MiraCosta College. People here believed in him and supported him, and that is what MiraCosta College is all about."
Figueroa's challenges began shortly after his birth more than 27 years ago. His parents and an older brother were living in a one-room flat the family rented in a modest North County home. One night, a married couple living in the building got into a fight. The woman fled to get her brother. He returned with a gun and opened fire, sending bullets flying over Figueroa's crib.
The family decided it was time to move. His parents opted for a house in a working-class neighborhood near MiraCosta College's Oceanside Campus, away from the gangs and drugs that permeated their old digs. But Figueroa's mother and father worked from before dawn until sundown, leaving young Jaime and his siblings – he also has a younger sister – plenty of time to be alone. Positive role models were lacking.
"A lot of my cousins were in trouble," he said. "A lot of my cousins were in gangs, and I thought it was cool."
"There was a point in my life where I carried a gun," Figueroa continued. "There was a point in my life where I was around drugs. I've seen people get beat up. I've seen people get shot."
He was kicked out of El Camino High School by his junior year. Then his mom dragged him to MiraCosta College's Community Learning Center. "That marked a transformation for me. That's where I began to reform."
He says earning his General Equivalency Diploma and his high school diploma was the hardest thing he's done. "It was a proud moment in my life. No one thought I could do it."
He accepted Christ. He began going to church. A short time later he began working as a teacher's assistant at New Venture Christian Fellowship. Then he enrolled in MiraCosta College's credit program. It wasn't easy; he had to take 20 units of remedial classes before he could get into the meat of his studies.

"I would go to work, go to the gym, go to school, and go study," Figueroa said. "I read chapters over and over again before taking a test. I wanted to be ready. I was motivated."
Montes saw the determination, and she made sure Figueroa took advantage of the myriad resources MiraCosta College has to offer.
"He worked hard. I mean, he really worked hard," she said. "He was in the library every day until late at night."
The hard work paid off. He earned a scholarship to UC Berkeley. He graduated in the winter of 2012. He's waiting for his wife to graduate from San Diego State University (the first he saw her, Jenaye was studying in the MiraCosta College cafeteria) before enrolling in law school.
Montes notes that MiraCosta College offers a partnership. Guarantees only come through effort. "You have to do the work, you have to have the dedication, you have to be committed. But if you do that, you will succeed," she said.
Added Rodriguez: "The great news is that he is not done yet. While he has accomplished so much to date, Jimmy's greatest contributions lie ahead…and it all began right here at MiraCosta College."
Figueroa recently reflected on the odyssey that took him from the streets to UC Berkeley and will land him at the doors of Harvard or a similar Tier I law school. "The church saved me spiritually," he said. "But MiraCosta provided me with the opportunity for the first time ever to do something with my life. They believed in me.
"I am very grateful for my degree from the University of California, Berkeley, but I am more than certain that no single academic accolade or professional title will ever surpass the emotional sentiment that resides within me whenever I have the opportunity to proclaim the fact that I am a proud MiraCosta alum."