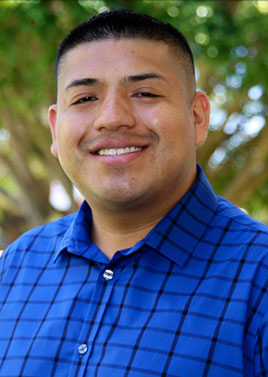 EOPS Student Services Coordinator & Associate Counselor
MiraCosta College Interim EOPS Counselor Jose Mota is paying it forward.

Born in Mexico, Mota immigrated to United States at the age of eight and has made Oceanside his home ever since. Growing up, Mota witnessed how hard his parents worked to make ends meet and realized that if he wanted to succeed in this country and not experience the same hardships as his parents, he would need to get an education and go to college.

Mota's parents were very supportive of his choice in attending college, but were unable to fully support him mentally as they never had the opportunity to attend school and have no understanding of the educational system.

After graduating from El Camino High School, Mota attended MiraCosta College where he not only began his higher education journey, but his professional journey.

"I honestly feel that MiraCosta provided me with the foundation to begin my educational journey," he said. "So I try to do the best I can to help students who are there now. I want to give back to MiraCosta College students what I received when I was a student here."

Mota transferred to Cal State San Marcos, where he earned a bachelor's degree in psychology, then earned his master's degree in counseling at San Diego State University in 2008. He quickly landed an internship at MiraCosta College, and a year later had become an associate counselor. Future plans include securing a Ph.D. in psychology.

Mota also serves as the coordinator of the First Year Experience program (FYE) and volunteers as a member of the planning committee for the Latino/a Graduation Celebration and Encuentros Education and Career Exploration conference held annually at MiraCosta College.

His devotion to the FYE stems from his desire "to help students the best way that I can." The effort establishes a strong peer support network for new MiraCosta College students and set them up with mentors and faculty who can help them overcome any obstacles. It also includes field trips to four-year universities.
"Working at MiraCosta as the Coordinator of the FYE Program and as an Associate Counselor is so rewarding because I get to assist, mentor and bear witness to students' academic and personal growth throughout their college journey," Mota said.

"As club advisor he is always taking the time to make sure things are getting done the correct way, answer questions, and has helped motivate me to have greater standards for myself," said one student.

"Mr. Mota's love for his career is very contagious," said another student. "I see that he loves working with people, and because of him I also want to help people in the same way."

In 2013, Mota was honored as Associate Faculty of the Year for his dedication to students, his knowledge, his openness to questions, and his ability to inspire.
Mota says he had no idea that students had nominated him for the award. "It certainly was a surprise," he said. "It was something that was unexpected, and I am deeply honored to have been chosen."