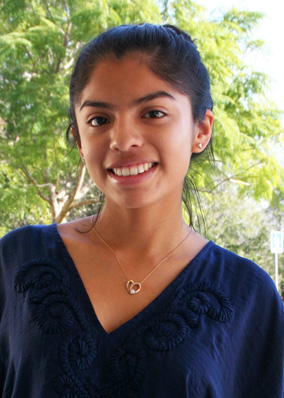 She graduated a year early from high school with a 4.6 grade point average, she helps take care of her younger brother, she is thriving in her first year at MiraCosta College, and she plans on earning a Ph.D. in chemistry from UC Berkeley.
Oh, and Julie Hernandez has won consecutive Boys & Girls Club Youth of Oceanside's Youth of the Year awards and is the reigning Youth of the Year for San Diego County and, as of April 25, all of California. That's when Julie received the title and a $5,000 scholarship in Sacramento at the Boys & Girls Clubs of America's state competition. Julie will now compete for the Pacific Region Youth of the Year title on June 8 in Costa Mesa. Julie has the opportunity to vie for National Youth of the Year, the highest honor bestowed upon a Club member. The National Youth of the Year receives a $25,000 scholarship that is renewable for up to four years, totaling $100,000. The California title is a huge win for San Diego County, a demonstration of the importance of Boys & Girls Clubs in the lives of our youth, and a monumental achievement for 17-year-old Julie.
"Julie is an astounding young woman who has not let her past circumstances define her future," said Jodi Diamond, CEO. "We are so proud of her achievements and are ecstatic to see her be recognized at a state level. This is only the beginning for Julie."
As part of her state competition, Julie was judged on her speech and essay about the crritical impact the club has had on her life. She shared her story of how the club helped her overccome her shyness and take on multiple adult responsilibilities at a young age while growing up with a single mother working multiple jobs.
Indeed, Julie has overcome more than her share of challenges. Her parents separated when she was nine, after her father, a military veteran disabled from combat tours in Iraq, moved to the family's hometown in Texas, leaving Julie and her mom behind in Oceanside. Often feeling alone, Julie grew up in a tough neighborhood, doing her best to stay out of trouble and concentrate on school. Her mother, a nurse, had to work two or three jobs at a time to make ends meet. Julie, meanwhile, would often watch over her baby brother, who lives with autism spectrum disorder.
Often feeling overwhelmed, Julie withdrew, became painfully shy and sometimes questioned her worth.
She found solace in the Boys & Girls Club of Oceanside.
"The Boys & Girls Club gave me a home when I didn't have one," said Julie. "My mom and dad were going through a separation and I was going through a lot of challenges. The Boys & Girls Club provided a safe space for me to get my grounding."
Julie was introduced to the Boys & Girls Club of Oceanside through an after-school program at Martin Luther King, Jr., Middle School. Self-conscious and profoundly shy, Julie slowly began to mix in with the other kids. Her confidence grew. And so did her leadership. Before long, Julie was running the afterschool snack shack, serving as treasurer with the Keystone Club, holding food drives, and making gift packages for Syrian refugees in San Diego. By her freshman year at El Camino High School, she was spending five or six hours a day at the club, tutoring young students and helping them with their homework.
"I wanted to give back to the Boys & Girls Club in the same way that others gave to me when I was younger," said Julie, now 17.
Julie found her passion for the sciences in high school. With a well-deserved reputation for outstanding programs in science, technology, engineering and math, MiraCosta College was an easy choice to launch her postsecondary education.
"I had taken a couple dual enrollment classes at MiraCosta when I was in high school, so I was pretty familiar with the campus," she said. "It was also close by, so I could stay at home and help my mom take care of my little brother. And it is very affordable. It was just the best option for me."
Diamond said Julie's story is inspiring countless youth facing their own obstacles.
"She's an extraordinary kid who is providing a wonderful example for so many of our youth who are facing their own challenges," said Diamond. "Julie's transformation and her ongoing accomplishments are giving a lot of kids hope that they, too, can achieve success."