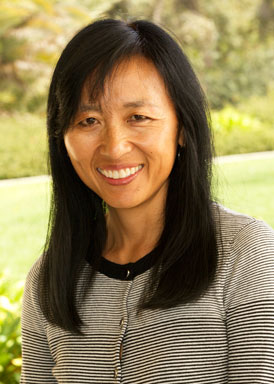 Director of Fiscal Services
At the age of five, Katie White left South Korea and immigrated to Argentina with her family.
After four years in Argentina, her father decided the family would have more opportunities in the United States. So, once again, the six of them packed up their belongings and moved, this time to California.
"I was 9 when we moved, so I basically grew up in Los Angeles ," said Katie. " I spoke fluent Spanish. I didn't know any English, so I spent my first few months in the U.S. being very quiet in the classrooms."
After six months, Katie learned enough English to converse with her classmates, but at the same time, lost her knowledge of the Spanish language while maintaining basic Korean.
Her parents always put great importance in education and because of that, Katie knew early on she wanted to go to college.
"My dad said having a degree will open a lot of doors for me later," said Katie. "I didn't really have a major in mind, but I was always good with numbers and was interested in economics."
Katie played-up to her strengths and majored in political economics at UC Berkeley and later earned an MBA with a concentration in finance from San Diego State University.
Katie's educational background led to a career in finance and accounting at Unisys Corporation, where she worked as a financial analyst at their San Diego Division.
"Burroughs and Sperry merged to become Unisys Corp, a world-wide corporation that specialized in system integration, consulting and enterprise servers," said White. "I had several positions at Unisys, and my last position was the division controller, a position I held for seven years before the company relocated to Mission Viejo."
After that, White became the financial planning analysis manager for Sony Electronics, first in their laptop/PC manufacturing division and then for their eCommerce Division.
After working for high-tech companies for most of her career, White joined MiraCosta College in February 2015 as director of Fiscal Services.
"I am very honored to join the MiraCosta College family," said White. "I firmly believe that higher education is the gateway to more choices that makes a difference in a person's life. I am very excited to transition to a college environment and bring my experiences I've gained from private industry to MiraCosta College."
With her knowledge and years of experience, Katie promises to keep Fiscal Services running smoothly.
"Katie brings with her an extensive background in budgeting, excellent analytical, social skills and is deeply committed to higher education and the success of our students," said Charlie Ng, vice president of Business and Administrative Services. "I can't wait for her to start doing amazing things here at MiraCosta."
On her spare time, Katie enjoys biking, tennis and spending time with her husband, whom she met while attending SDSU, and their two sons.