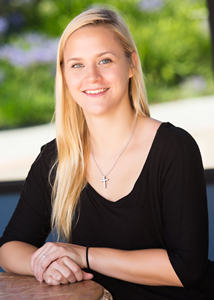 MiraCosta College graduate and standout scholar Kendal Gill continues to impress.
Gill graduated with a bachelor's degree in biology/pre-med from Loyola University New Orleans last May. Now she's moving to Nashville, where Gill is enrolling this fall at Vanderbilt University's, three-year, nurse practitioner graduate program with a specialty in women's health.
MiraCosta College, Gill said, helped make it all possible.
Gill thrived as a biology major at MiraCosta College and was active in the school's Honors Program during her two years at the Oceanside Campus.
"MiraCosta's curriculum is so rigorous that when I got to Loyola, I was over-prepared and was actually able to take a breath," she said.
Gill's success doesn't surprise her former instructors at MiraCosta College.
"Kendal is very serious about her work, very committed to her studies and very disciplined in her approach," said English instructor Jose Jara, who still stays in contact with Gill. "Nobody should really be surprised, and yet we often are. But our students set goals and then go out and achieve them."
History instructor Christopher Sleeper agrees.
​"Kendal was a great example of an honor student," said Sleeper. "She executed her transfer plan perfectly. She participated in the Honors Research Conference, where she gave an excellent presentation that was related to her major and got a lot out of our program by going to many different theatre nights and transfer trips."
Gill enrolled at MiraCosta College after her husband enlisted in the Marine Corps and was based at Camp Pendleton. Upon earning an associate degree in biology, Gil was accepted into all 15 four-year colleges and universities to which she applied, and she secured scholarship offers from almost all of them.
For good reason. A particularly memorable assignment in Jara's class involved researching and writing proposals for scholarships. The lesson came in handy: Loyola University New Orleans provided her with nearly $40,000 in annual scholarships, grants and financial aid. And Vanderbilt is paying half the cost of her graduate school. What's more, Gill is applying to the National Health Service Corps for a scholarship that would cover the rest.
"I'm really excited for her," said Jara. "She's a great student and a great person."