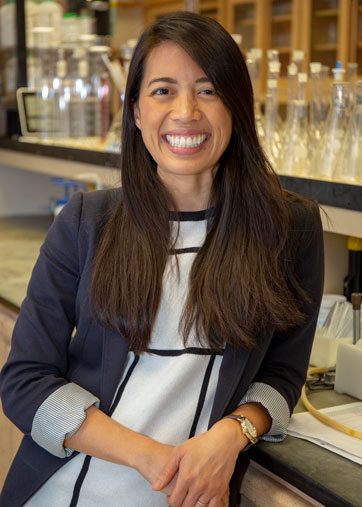 Faculty, Chemistry Department
A former high school science teacher, Dr. Kristine Arquero has found her niche at MiraCosta College's Oceanside Campus, where the pride of Orange County is the newest full-time professor in a thriving Chemistry Department.
"I really enjoy it here," Arquero said. "My colleagues at MiraCosta College are fantastic, and it's an extremely welcoming environment where students come first and where people enjoy teaching."
A product of Anaheim who graduated from Canyon High School in Anaheim Hills, Arquero said her interest in science was fueled by her father, who had a successful career as an engineer. She also excelled in her chemistry classes, something that motivated her to reach even higher. "It was cool to do well in something that not everyone was good at."
From Canyon High, Arquero ventured north and earned a bachelor's degree in chemistry at UC Berkeley in 2008. While studying there, Arquero worked as both a teacher's assistant and as director of the Youth Mentor Program at the YWCA Berkeley/Oakland, experiences that piqued her interest in teaching. So she set off for New York, where Arquero taught high school chemistry in the Bronx through the New York City Teaching Fellows program. She also earned a master's degree in science education from City University of New York – Lehman College.
But teaching high school students had its drawbacks, and Arquero soon began questioning her career path. "You're dealing with teenagers and teenage behavior, and I just couldn't see myself doing that in the long run."
So, after working as a program coordinator with iMentor, a nonprofit mentoring program in New York, Arquero set off for her Ph.D. program in chemistry at UC Irvine. A Ford Foundation Fellowship covered the cost and allowed her to focus on her research, which led to an expertise in atmospheric chemistry.
She has been at MiraCosta College since the fall of 2017, earning praise from students and co-workers alike.
"Dr. Arquero is a passionate educator who exemplifies the best of MiraCosta College – intelligence, compassion, skillful teaching and commitment to students," said Kent McCorkle, who serves as chair of the Chemistry Department. "We are fortunate to have her as a member of the Chemistry Department and our college community."
Arquero's research interests include how particles form in the atmosphere form sulfur-based and nitrogen-based gasses. Her dissertation centered on the intricacies of methanesulfonic acid reacting with nitrogen-based gasses emitted by industry and agriculture to form particles in the atmosphere. Research articles include titles such as "The Role of Oxalic Acid in New Particle Formation from Methanesulfonic Acid, Methylamine, and Water" and "New Particle Formation and Growth from Methanesulfonic Acid, Trimethylamine and Water." Her dedication is among the reasons MiraCosta College's Nordson STEM Academic Learning Center was honored with a 2018 Inspiring Programs in STEM Award from INSIGHT Into Diversity, the oldest and largest magazine dedicated to promoting diversity in higher education.
While her courses can be challenging, Arquero says she loves building rapport with her students, who come from a variety of backgrounds and who are intent on learning. "It's nice teaching adults who are choosing to be in my classroom and aren't just here because they have to be here."
Added Arquero: "I'm exactly where I wanted to be when I first enrolled in graduate school."