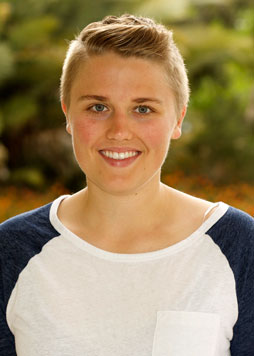 Laura Martin always knew she would attend MiraCosta College.
After graduating from Rancho Bernardo High School in 2013, Martin simultaneously enrolled at MiraCosta College and applied for the Honors Program.
"My two older brothers went to MiraCosta College and loved it," said Martin. "They told me to join the Honors Program because the program helped them succeed when they were attending MiraCosta."
A daughter of a nurse, Martin grew up knowing a lot about the medical field. It is no wonder that she came to major in molecular biology and dreams of one day being a doctor.
Knowing doctors need to do a tremendous amount of research, Martin looked for internships online and found the Community College Summer Enrichment Program (CCSEP). The program focuses on recruiting community college students across the nation to the National Institutes of Health (NIH) and gives them research experience in a bio medical environment.
Part of the application process was to include two letters of recommendation from professors. This was easy because as a member of HSP, Martin had a chance to create strong relationships with her professors.
"The Honors Program really gave me the chance to have deeper relationships with professors," said Martin. "It really paid off when I needed letters of recommendation for the internship—and they wrote me really good ones."
With the help of the recommendation letters and her near-perfect GPA (which earned her a spot in the President's Permanent Honor Roll and acceptance in Phi Theta Kappa) Martin became one of only 20 community college students chosen from around the country to spend 10 weeks as an intern working in labs of their choice at NIH in Maryland.
"I chose to do research in the unit of neuroplasticity because neurology is a really interesting field that I've always been fascinated with since I was a kid," said Martin. "This internship will definitely help me develop that interest."
The paid internship entails research with rats and the effects of post-traumatic stress disorder (PTSD) and will further exploration of the neurogenesis associated with how a person copes with stress.

In the fall of 2015, Martin began her first semester at UCLA, where she hopes to graduate in two years and apply for medical school.
"My experience at MiraCosta was great and the Honors Program was a complete blessing."