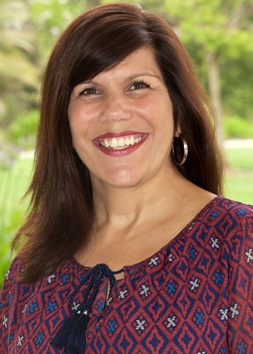 Laurie Andrews always knew she would one day give college another try.
Andrews began her collegiate years more than 25 years ago at University of La Verne where she double majored in communication and French, but due to financial reasons she had to quit school. She was only a year shy of graduating.
"I thought that one day I would move to Europe and have a career in radio, but things happened financially that steered me away from school," said Andrews. "Plus, I didn't have a lot of direction back then."
Instead of Europe, Andrews relocated to Australia where she got married and started a family. She lived there intermittently for a total of seven years and later moved to Oceanside. Once settled, she began to throw around the idea of going back to school.
"It was always in the back of my mind to go back to school. I just didn't know where or if I could do it," said Andrews.
As luck would have it, she received a MiraCosta College mini class schedule in the mail. As she looked through the colorful pages containing a list of credit classes, it sparked something in her. In fall 2014, she enrolled in MiraCosta College.
She started slow, only taking two online classes in kinesiology and psychology. Andrews finished her first semester with straight A's that left her motivated to go further and learn more.
"The classes were amazing, it was comprehensive, and the instructors were excellent. I just loved it!" she said. "After I finished my first semester, I decided to enroll in on-campus classes and learn more about MiraCosta."
What Andrews discovered was a welcoming college environment with people who sincerely wanted her to succeed.
"Honestly, I was nervous coming in because I am older and I was worried if I would fit in or transition back to college life easily," Andrews said. "I quickly learned people are here to help and guide you towards academic success."
She also found places like the Library, Transfer Center and Tutoring Center as great resources to keep her on track and maintain a high academic record, while also managing her life as a student, wife and mother of three. She also became a member of Phi Theta Kappa, the largest honor society in American higher education for students with a GPA of 3.5 or higher
"It is challenging and can be a little overwhelming, but I've learned to prioritize," Andrews said. "Family always comes first because they are my biggest supporters and my greatest determination to finish my education."
Andrews will transfer to Cal State San Marcos in fall 2016 to earn a bachelor's degree in psychology. Her ultimate goal is to earn a master's degree and start a career in occupational therapy or industrial and organizational psychology.