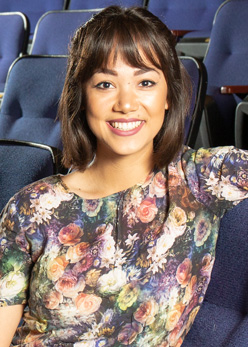 Lisa Naudi looked at some of the top universities in California as she pondered her future in the months before graduating from La Costa Canyon High School with the Class of 2015. UC Berkeley, UC San Diego and UCLA were among them. Instead, the honors student - who completed eight AP classes and graduated with a GPA just shy of 4.0 - chose MiraCosta College.
And with good reason.
"The minute I stepped on the MiraCosta College campus I felt a connection," said Naudi, who has been on the President's List every semester she's been at the Oceanside Campus en route to earning her associate degree in liberal arts with an emphasis in arts and humanities. "Everybody was so down to earth, and the dedication and commitment of the students was inspiring. Since I've been here, the professors I've had have all been willing to go beyond their job title to help you.
"You can't fail at MiraCosta," Naudi continued, "because they give you so many opportunities to do well."
Indeed, Naudi is a walking billboard for MiraCosta, and she embodies the college's impact on the community. Despite earning an associate degree at the conclusion of the fall semester, Naudi will remain at MiraCosta College through next fall as she wraps up the last of several courses required for a nursing program. Among the programs she's looking at: San Diego State University, Cal State San Marcos, Pt. Loma Nazarene University. And MiraCosta College.
Her goal: become a nurse or a nurse practitioner specializing in pediatrics or trauma care. Pediatrics would fall in line with her love of working with children, a love that has led to jobs such as a caregiver at Coastline Church in Carlsbad, an afterschool program at the Ecke Family YMCA in Encinitas, and a VIP host at Legoland, not to mention side gigs as a babysitter when she has the time. In addition, Naudi serves as an assistant coach at the La Costa Canyon High School speech and debate team.
Despite her job commitments that comprise nearly 40 hours of work each week, Naudi remains involved on campus. She has appeared in several MiraCosta College Theatre Department productions, and she starred as Juliet in Shakespeare's Romeo and Juliet in the fall of 2016. Other plays she's performed in: Waiting for Lefty, Oklahoma and Almost, Maine.
"Lisa is a talented, generous actor who is committed to professionalism while continually improving her craft," said Eric Bishop, chair of the Theatre & Film Department at MiraCosta College. "As a person, she is warm, kind, approachable and full of integrity. A director's dream. Absolutely stellar!"
The feeling is mutual.
"I love the Theatre Department here because it is so professional, but also very educational," she said. "They help you find a voice and a talent inside of you that you didn't know you had before. And the quality of their productions is amazing."