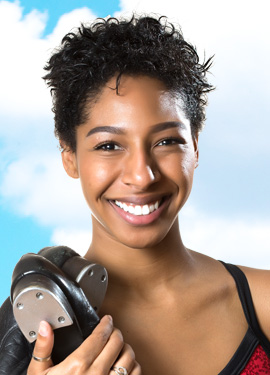 MiraCosta College dance student Lizette Hill's passion for dancing all started on her third grade playground where she watched another student practice her dance moves during recess.
"I didn't even know what choreography was," said Hill. "I continued to watch her in awe and a week later I enrolled myself in a dance studio."
This all started Hill's love affair with dance that has lasted throughout her life.
Today, she is skilled in the art of hiphop, salsa, tap and ballet.
In 2014, Hill graduated from El Camino High School and because she was not immediately accepted to UCLA, she enrolled at MiraCosta College.
"I was already familiar with MiraCosta after having attended the Summer Bridge Program during my junior year," said Hill.
Though she knew MiraCosta was a great place to start, she was skeptical about the quality of MiraCosta College's dance program. After the first day of class, she realized she had made the right decision. Hill found the program to be challenging, but offered in an extremely caring and intimate atmosphere.
"The instructors are absolutely amazing here and I've been so blessed to get to work with them and learn from them," said Hill. "They really add to the support system that dancers need."
Also adding to her support system is Hill's biggest inspiration: her family. Although she grew up in a single parent home, she always had both her parents' support. They taught her to "believe in yourself, do what you want to do and don't let anything stop you."
Hill put those words to use during her senior year in high school when for about six months her family lost their home and ended up living at a friend's house.
"That experience was tough, but it actually drew me closer to dance," said Hill. "I didn't want to go 'home' so I kept myself at the studio for as long as I could to practice. Dance was literally my guardian angel that kept me going."
Today, Hill is finishing her first year at MiraCosta College. She hopes to transfer to UCLA and be part of a dance team or be a back-up dancer for a well-known artist then ultimately own a dance studio that caters to low-income families.
For now however, Hill just has one thing on her mind.
"I just want to keep growing as an artist, perform in front of people as much as possible and dance for as long as I can."