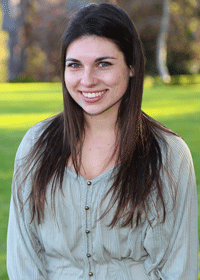 When you work hard and dream big, opportunities arise. This was the case with Loren Vevaina, a recent MiraCosta College graduate. In a span of two years, Loren acquired a multitude of accolades under her belt, including graduating with a perfect 4.0 GPA, being bestowed the title of the Honors Navigator of the Year, having the opportunity to study at the brand new Leadership residential program located at Scripps College, to presenting an academic research at UC Irvine and getting accepted to UCLA,. Clearly, Loren has accomplished quite a whole lot during her time at MiraCosta.
How was Loren able to achieve so much in such a short amount of time?
People often learn from other people's experiences. Fortunately for Loren, she was able to observe and learn from her older sister's decision to go to a four-year university straight out of high school. Not completely satisfied with her time spent there, Loren's older sister returned home and enrolled at MiraCosta. After only one year, she was able to transfer to UC Berkeley with honors.
With the knowledge that she would save thousands of dollars by attending MiraCosta and witnessing her sister's success, Loren decided to follow in her footsteps. "For me, that was the deciding factor in coming to MiraCosta," said Loren.
From the beginning, Loren was determined to find a taste of the university lifestyle in a community college setting. By joining the MiraCosta College Honors Program, she found just that.
"As soon as I started school I joined the Honors Program," she said. "It was arguably the best decision I could have made."
Being surrounded by a community of intellectual and transfer-focused students helped keep Loren motivated as she enrolled in demanding honors courses. On the other spectrum of college life, Loren was ecstatic to socialize with students outside of the classroom as she accompanied her fellow scholars to college visits and theatre productions.
"I quickly gained the academically and socially enriching atmosphere that a four-year university provides," she said. "I couldn't have asked for anything more."
As for advice that she has for incoming students, Loren says to get involved.
"Whether it is joining the Honors Program, the Associated Student Government, intramurals, or a club, try to find your niche and dedicate yourself to it," Loren said. "The students and faculty that I met through getting involved is what made my experience so memorable."
With her journey at MiraCosta now complete, Loren is already making huge strides over at UCLA. She was recently awarded the UCLA Transfer Alliance Program Scholarship, participated in the College-to-Career Riordan Program at the Anderson School of Management, and studies sociology. With a bright future ahead of her, Loren will always have a place in her heart for MiraCosta College.
"I will never forget where I came from and whom I have to thank for many of my successes."