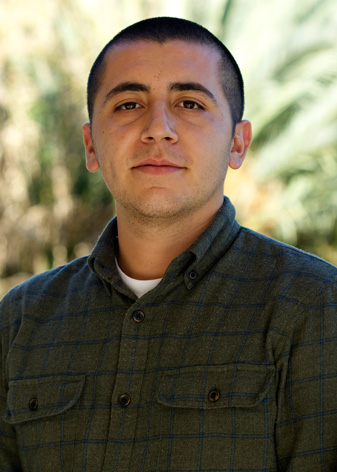 First-generation college student Luis Arguelles did not grow up thinking he would one day major in English. In fact, it was his least favorite subject.
Arguelles, a 2007 Oceanside High School graduate, had dreams of becoming an automotive technician. To accomplish the dream, he began taking classes at a local trade school, but later realized he wanted to work on cars strictly as a hobby. In 2013, he enrolled at MiraCosta College.
"I enrolled at MiraCosta as a full-time student," said Arugelles. "In the beginning I was a communications major, but I ended up switching to English after taking a class with John Kirwan."
Arguelles remembers being presented with really interesting material in Kirwan's class that he had never read or worked on before. The material awakened his passion for literature.
"The funny thing is, before Kirwan's English 100 class, I had to take English 50 twice before finally passing it on the third try," he says. "Thankfully, we have the Writing Center and meeting with a writing consultant really made a difference and helped me pass the class."
After using tips he got from a writing consultant on his writing assignments, he began enjoying his English classes and learned he has a talent for writing. His talent led him to work at the Writing Center where he helps other students with their writing assignments.
"That was two years ago and working as a writing consultant has been one of the best things that has happened to me at MiraCosta," said Arguelles.
His experience at the Writing Center has also inspired him take up teaching as a career.
"MiraCosta has helped me realize how much I like to write and read. My experience here has also solidified that I really want to be an English instructor."
Arguelles graduated in May 2016 and plans to transfer to San Diego State University.