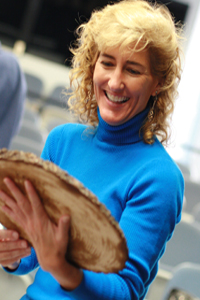 Anthropology Professor
Dr. Lynne Miller, who earned a Ph.D. in Anthropology from UC Davis and a bachelor's degree in anthropology and biology from Pitzer College, teaches introductory and advanced anthropology classes at MiraCosta College.
Prior to joining the MiraCosta College staff in 2000, Lynne taught at UCLA and UCSD as well as other California colleges. In spring 2005 she was named Outstanding Faculty Member of the Year at MiraCosta College. "I love teaching," says Lynne. "I come from a long line of teachers, so I kind of come to this naturally. I enjoy working with students and giving lectures. It's fun stuff to talk about."
A practicing anthropologist, she often inspires her students to major in anthropology or, at the very least, to become active pursuers of knowledge. As she says, "My goal is for students to learn, not only interesting facts, but also how to think, and ask questions, and to be excited about learning."
Judging from a class observation, she is succeeding. In a discussion about DNA, chromosomes, and why it is that some people have blue eyes instead of brown, Lynne can hardly finish a sentence because her students are so engaged in the material that they continually raise their hands to either contribute to the conversation or ask a clarifying question.
"Dr. Miller has a wonderful ability to make a difficult subject understandable. She is very interactive, very dynamic, and she always makes times for students. She is one of the most popular teachers but definitely not because her classes are easy. She does a fantastic job of preparing students for transfer and success in upper-division course work, "says MiraCosta honors student Liberty McDonald.
Lynne benefitted from an upbringing that gave her an early start learning about the traits and tools of humanity. When only 13 years old, she went on her first archeological expedition in Africa with he mother, anthropologist Sheryl Miller, to search for tools made by the earliest modern humans.
Since that first expedition, Lynne has traveled far and wide, from Madagascar to Papua New Guinea to Borneo. For 20 years, she studied a wild population of capuchin monkeys in Venezuela. During a recent sabbatical, she tested the monkeys' decisions to take a food reward when they could see a model predator.
"Field research like this comes directly back to the classroom. Students are much more inspired by professors with personal experience in the subject," Lynne says. Those taking her Primate Behavior and Ecology course design and complete a research project on primate behavior, making repeated trips to the San Diego Zoo or Wild Animal Park to observe their subjects. She walks them through the basics of research: developing a hypothesis, recording observations, analyzing the data, and presenting the results in standard written and poster format.
"Accomplishing the project is a source of pride for students," says Lynne, adding that her students are invited to present their posters to professional anthropologists at the Southern California Primate Research Forum, an opportunity usually reserved for graduate students and college seniors.
Lynne's active engagement in field research, professional associations and unique experiences inform her class discussions and provide her students with real-time information about the world in which they live. Regardless of a student's eventual academic goals, his or her opportunity to study with Professor Miller early in their college career undoubtedly ignites life-long intellectual curiosity.