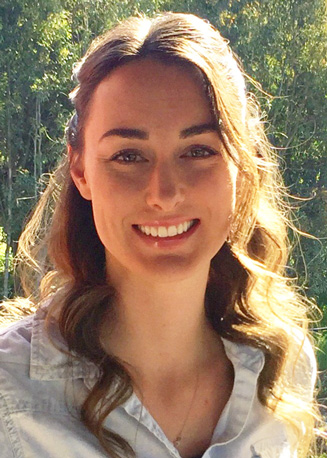 Madeline Burritt didn't want to spend the rest of her life working in customer service so for the past five years, after clocking out of her shift at The UPS Store, she took classes at MiraCosta College. Burritt graduated in fall 2016 with an associate degree in computer aided drafting and design.
Now she's embarked on a new career at General Atomics in Poway where she works as a drafter/designer on an array of high-tech projects.
"I really like what I'm doing now," Burritt said. "This is a good place to work and I'm in a profession with a future. I owe a lot to MiraCosta College."
Burritt embodies the workforce development mission of MiraCosta College, which is contributing more than $338 million annually to San Diego County's Gross Regional Product, enough to support more than 5,000 jobs in its service area, according to an study by an Idaho-based firm that specializes in analyzing the economic impact of colleges and universities. A student who secures an associate degree from MiraCosta College will see an increase in earnings of $11,700 annually compared to someone with just a high school diploma, the study found. Over a working lifetime, that increase in earnings amounts to an estimated $456,300.
Those kind of numbers appealed to Burritt.
After graduating from Carlsbad High School in 2011, Burritt began working for The UPS Store, first as a retail associate, then as a store manager and notary public. Meanwhile, Burritt would take a class or two, including several online, as time allowed. When she found her calling in computer aided drafting and design, she began taking more classes while working toward a career in the field.
"It was my privilege to introduce Madeline to computer aided design two years ago, and then watch her progress, finish her studies and find work at General Atomics," said Paul Clarke, chair of the MiraCosta College Design Department, which offers classes in design fundamentals, computer-aided design and CAD software, 3-D modeling, design graphics and more. "Madeline is a model of dedication and determination. She represents the best of MiraCosta College, and she is living proof that a good education and hard work is still the path to a bright future."
During her last semester at MiraCosta College, Madeline began working part-time at General Atomics through the Cooperative Work Experience Education program, which is designed to help students develop and improve their workplace competencies while undertaking expanded responsibilities and learning new skills. Upon earning her associate of arts degree at the end of the fall semester, Burritt was hired on full-time.
"I wanted a good paying career in something I enjoyed doing, and MiraCosta's Design Program helped me get here," Burritt said. "The biggest thing about the program is that a lot of professors had worked or are working in the industry, so you're being taught by trained professionals who offer nothing but encouragement and the flexibility you need to get your degree."