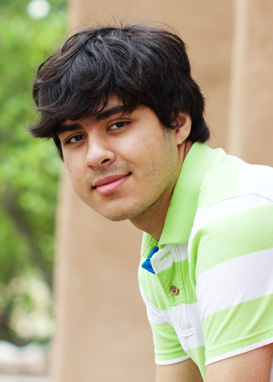 Mahan Najhawan is the the youngest of eight 18-year-olds who walked at the 2016 MiraCosta College Commencement.
Najahwan, a La Jolla resident, enrolled at the San Elijo Campus at the age of 16 upon graduating from high school in his sophomore year via the California High School Proficiency Examination. The summer after passing the exam, Najhawan – who was living with his family in Rancho Bernardo at the time – enrolled in a couple courses at Miramar College to see if he was prepared for a postsecondary education.
He was. Next stop, MiraCosta College for a pair of associate degrees, one in biotechnology, the other in liberal arts with a concentration in mathematics and science.
"I had always heard that MiraCosta was one of the best community colleges in the nation, so I decided that if I were to go full time, I would enroll at MiraCosta. When we moved to La Jolla, it just made sense to go the San Elijo Campus."
Najhawan did not feel out of place because of his age. "Everybody was pretty welcoming," Najhawan said. "I had an awesome experience, and I just loved the close-knit environment that the college provides."
Najhawan graduated with a GPA of 3.75 and currently volunteers in the emergency room at Scripps Memorial Hospital La Jolla. If all goes according to plan, he will complete medical school at age 24 and complete his residency at age 27.