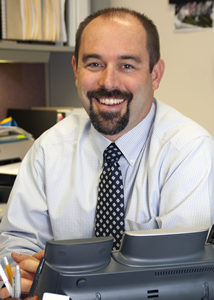 Financial Aid Director
Mike Dear's original plan was to earn a master's degree in marriage, family and child counseling and launch his own private practice in the field. Dear earned his degree, but through a series of fortunate events, ended up as director of financial aid and scholarships at MiraCosta College.
"I stumbled into it," Dear said.
Dear graduated from UC Santa Barbara with a bachelor of arts degree in Spanish and enrolled at Cal State Sacramento in 2000 en route to earning his master's. He needed to work his way through college, though, and he ended up landing an entry-level job as a counter clerk in the college financial aid office. Just five years later, Dear had worked his way up the ladder to become Cal State Sacramento's assistant financial aid director. In 2010, he took a post as a specialist in student services and special programs at the California Community College Chancellor's Office in Sacramento. It was there that he met Gilbert Hermosillo, dean of admissions and student support at MiraCosta College, when the two worked together on a project involving veterans services.
"I had been in the Chancellor's Office for a couple years and it was fascinating work, but I missed being at a college campus and interacting with the students," Dear said. "There was an energy, a vibrancy, that I missed, and when Gilbert told me there might be an opening coming up in the financial aid office at MiraCosta College, I jumped at the opportunity."
Two years after he secured the job at the Chancellor's Office Dear moved to Oceanside to work for MiraCosta College. He has no regrets.
"MiraCosta has an amazing group of people" Dear said. "everyone is so dedicated that it creates a great atmosphere and a great place to work."