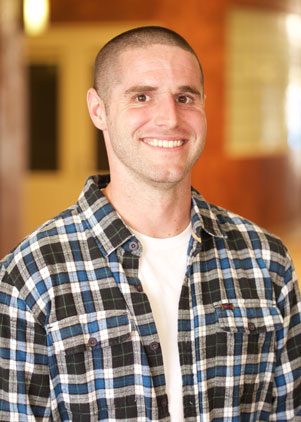 Nate Phillips is part of MiraCosta College history.
Phillips this fall enrolled with the inaugural cohort of 23 junior-year students at MiraCosta College's groundbreaking bachelor's degree program in Biomanufacturing. MiraCosta is one of just 15 California community colleges selected in a pilot project allowing the campuses to offer a for the first time a bachelor's degree in an in-demand field.
"I couldn't be happier," said Phillips, 32. "This is a profession that is growing exponentially, especially in San Diego County. The market is there. This is the spot for it. It's a great field to get into and it's a great program to have at MiraCosta."
Phillips' journey to MiraCosta College was hardly a direct route. Phillips grew up in Monterey and for several years after high school was a harbor maintenance worker before running his own company delivering lost luggage to passengers flying into Monterey Regional Airport. Seeking a change, Phillips moved to San Diego, played in a band and worked at a handful of what he called dead-end jobs before the girlfriend who would become his wife urged him to return to school and find a better future.
For Phillips, who was living in Poway at the time, Miramar College was the closest option. "I took a general education course in biology and really liked it, then took a biotechnology course and absolutely loved it," he said. His growing interest in biotech led Phillips to an internship through the Bridges to the Stem Cell Research Program, which is funded by the California Institute for Regenerative Medicine. The program, based at Cal State San Marcos, is operated in partnership with MiraCosta and Miramar colleges and places students in a 12-month paid internship at host laboratories throughout the region.
Phillips landed at The Scripps Research Institute during the one-year program that paid a $30,000 stipend and provided 24 community college course credits.
"I learned so much in that lab," said Phillips, whose work as a research assistant entailed isolating lymphocytes from the pancreas of diabetic mice and characterizing them to try to figure out why they attack the beta cells, which ultimately, destroys the body's ability to produce insulin.
Phillips had found his future. After he and his wife bought a house in Oceanside, MiraCosta College was an obvious choice for continuing his education. He earned an associate degree in biotechnology research and development in 2016 while at the same time working as a lab assistant at the Salk Institute for Biological Studies.
The timing couldn't have been better. MiraCosta in 2015 was one of 15 colleges that secured the green light from the California Community Colleges' Board of Governors to host a pilot bachelor's degree program in career technical fields for the first time in history. Already a leader in biotechnology and life science programming, MiraCosta College was supported by an array of North County biotech firms in its effort to launch a baccalaureate program in biomanufacturing for a fraction of the price it would cost at a university.
"The new four-year degree program at MiraCosta College is an outstanding, timely, and welcome addition to the life science community," said Joe Panetta, president and CEO of Biocom, the Life Science Association of California. "Biomanufacturing is a critical need in our industry, so congratulations to the MiraCosta College leadership team for their foresight in introducing a tremendously affordable program for students. The life science industry employs nearly 50,000 people and generates $34 billion in annual economic activity in San Diego County alone. Having a home-grown workforce is essential to the future growth of this high-wage sector, so we look forward to providing our support to the faculty and students in the program."
Although Phillips already has an associate degree and several years of experience at what are among the leading biotech companies in the world, he said earning a bachelor's degree in biomanufacturing will expand his expertise and his earning power. His long-term goals include a master's degree and leading a product development team at a renown biotech firm.
MiraCosta College was a big no-duh.
"It wasn't a difficult choice," he said. "They have an established biotechnology program, I'm familiar with the school, you can't beat the cost and the facilities here are awesome. They've got it all."
His courses this fall: Biomanufacturing Process Sciences; Advanced Topics in Quality Assurance and Regulatory Affairs; and Design of Biomanufacturing Facilities, Critical Utilities, Process, and Equipment. Among those in his cohort is a veteran who is using his GI Bill to fund his quest and a single mother who completed her certificate-level coursework at Cuyamaca several years ago.
Lower-division courses in the four-year program are just $46 per unit, and they cost an additional $84 a unit for upper division classes. Securing a degree is expected to cost a total of about $10,000, not including books, materials and fees for health services, parking and the student center.
"We are delighted to see the launch of MiraCosta's new biomanufacturing program," said Don R. Fitzgerald, vice president and general manager at Genentech's Oceanside Product Operations. "We applaud their commitment to STEM education and the opportunity that the College is providing for local students to explore the exciting field of biotechnology."