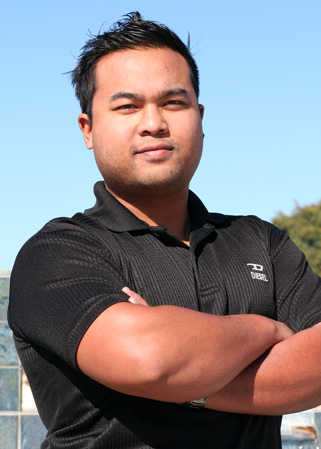 You would never know from Paripon "Pari" Thitathan Jr.'s smiling face that he has had a tough life. Growing up, Pari was a product of a split family. At the age of five, Pari relocated to Thailand with his father and brother for eight years and finally returned to the United States at the age of 13.
In 2003, Pari entered Oceanside High School and then transferred to Fallbrook High during his sophomore year. At the time, he said he did not take school seriously and became drastically behind in credits. "I had zero credits—close to nothing," Pari said. He was forced to attend continuation high school and take part in an accelerated program. He simultaneously attended MiraCosta College where he took a couple of classes that helped him catch-up with his high school credits. By 2006, at the age of 16, Pari graduated high school and earned "The Best Come Back" award.
Pari then enrolled as a full-time college student at MiraCosta College, but his accelerated success in high school did not pair well with college-level academics, so he decided to drop out of college.
Pari then shifted his focus from school to working full-time in multiple industries including food, retail and automotive. For four years, Pari delved in the low-paying and unstable environment of blue-collar jobs. Due to the working conditions, Pari realized the importance of a college degree and went back to school to study mechanical engineering, but again performed poorly and postponed his education.
In 2008, Pari's family started a chain of restaurants, Papaya Bay Banning. "I dropped everything to work full-time for my mom's business," Pari said. A few years later, due to the unstable economy, two of the three restaurants went bankrupt and once again, Pari was at a loss.
"I realized how stupid I was… I realized how much I don't know about life and how things operate," Pari said. Surprisingly, the restaurant industry did spark interest in an unexpected field. "The restaurant industry unveiled my curiosity for science... and I decided to challenge myself to return to college, " Pari said.
In fall of 2011, With the bankruptcy and lack of education as his motivation, Pari worked hard to pull himself together and put his full focus on succeeding in college. "I thought I was going to perform terribly, but I proved myself wrong," Pari said.
Pari majored and earned a place on the President's List twice, became a member of the Phi Theta Kappa honor society, and was awarded the Genentech-Osher scholarship, which provides a $500 scholarship every semester.
"I was literally dragged by my wife and Diane Danielewicz of the Scholarship Office to apply for the scholarship," Pari shares. "I almost fell off my bed when I saw the email that I was chosen!"
To help him and his wife with their finances, Pari runs a small business on wheels, the Thai Burger Company, which can be found at various farmer's markets in North County San Diego. "We have the original Thai burgers!" Pari declares. Pari invested over one thousand dollars in his business and it has paid off. "We became full-blown vendors in the summer of 2012," Pari said. "It's not easy to stand out in the farmer's market business, but we have fought a really good fight and are making it."
However, it is the scholarship from MCC that he says makes the impossible possible.
"My wife of two years, Bongkod Wongpan, and I work hard to make ends meet. The scholarship definitely helped us with our needs, which is more than what I could ask for," Pari said.

Pari plans on transferring to UC San Diego or UC Davis to earn a degree in biological engineering. He dreams of someday running his own research facility.
"Despite how dim that ray of light is at the end of this journey, miracles do exist for those who sincerely work hard, have strong faith and hope, and possess a true sense of purpose."
Check out Thai Burger Company at the Oceanside Sunset Market every Thursday night and other locations as scheduled.