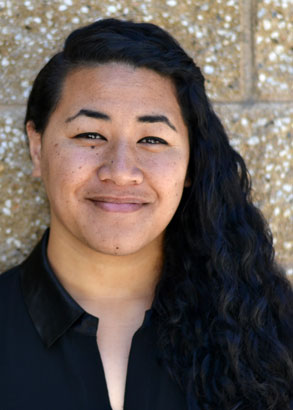 Patricia Fa'asua never thought that one day she would be attending the same renowned Ivy League drama school that was once home to the likes of Meryl Streep, Paul Newman and Sigourney Weaver. Yet, she is now studying at the Yale School of Drama.
She credits the MiraCosta College Theatre Department for helping her make it there.
Fa'asua always had a love for acting, but it was not until a few years ago that she decided to follow her dreams.
"My brother was a student at MiraCosta College and it was through him that I found out the college offers a dramatic arts program as well as a summer acting academy," she said.
That was spring 2012, and at the time, Fa'asua was attending La Sierra University in Riverside to earn a bachelor's degree in psychology. But that summer, she auditioned for the MiraCosta College Actor's Academy, a conservatory-style actor's "boot-camp" covering a plethora of acting skills, including voice and diction, movement and Shakespeare.
"It was really through Actor's Academy that I realized my deep passion for the art," Fa'asua said. "It was after those five weeks in the academy that I committed to changing my career and becoming an actor."
So in the fall 2012, Fa'asua left La Sierra University and enrolled at MiraCosta College to study dramatic arts.
"The MiraCosta College Dramatic Arts Program sets really high standards and professionalism with their students," she said. "From there, students have no choice but to keep growing and aim for greater goals."
After a couple of years and seven shows on her résumé, Fa'asua decided to move to Los Angeles for more training, but this time in film; however, things didn't end up going the way she had hoped. She found it was hard to balance a career in acting with her personal responsibilities.
That's when the Yale School of Drama came onto her radar.
"I learned Yale's mission supported my own artistic values and mission, which was the ultimate reason I applied," Fa'asua said.
In February 2015, Fa'asua went to San Francisco to attend the first round of auditions and became one of the first picks of the day. Overall, more than 1,000 students in the nation applied for the school, but only 32 were chosen to attend the final callbacks in Connecticut.
During her final callback, Fa'asua relied on the training she acquired at MiraCosta College, including techniques, concepts, and exercises. Indeed, all of Fa'asua's training and hard work paid off as she was one of just 17 accepted in the program to be part of the Class of 2018 cohort.
"Patricia's hunger to train, desire to grow, talent and intellectual curiosity were driving factors toward her success," said Eric Bishop, MiraCosta College dramatic arts instructor. "Beyond being a talented actor, she also has great potential to be a gifted director, vision to be an artistic director, and intelligence and compassion to be a difference-maker as a college educator. The sky is the limit for Patricia."
After earning a master of fine arts in acting, Fa'asua wants to immediately start working either in theater or film. Later on, she would like to teach and possibly start her own studio.
Fa'asua strongly encourages and challenges MiraCosta College students to take at least one acting class regardless of their age or background, for the program can teach them lessons and skills they can use in any life situation—which is life changing in and of itself.
"The MiraCosta theatre program changed my life, and now I want to make a difference in the world through acting," she said. "I don't want to be seen just an entertainer, but also a catalyst for connecting people and that to me can also really make a difference in the world."