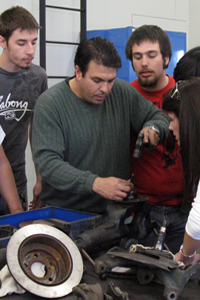 Automotive Technology Instructor
Paul Katson has had two careers and two passions: cooking and cars. After spending years working in the family restaurant business, the latter won out when Paul moved from Alexandria, Virginia to California in order to pursue a career in automotive technology.
"I always wrestled with what I wanted to do: go into the restaurant business or the automotive business," explains Paul. "I ended up listening to my heart and decided to go with cars."
When Paul moved out to California he already had years of experience working on cars. In high school, he took every automotive class he could and practiced working on his friends' cars. He also had afternoon jobs working at gas stations. This experience gave Paul a jump start on a successful automotive career, but soon he decided that he wanted to go beyond just having hands-on experience and learn about the theory of vehicles.
"There's more than just taking a car apart and putting it back together," says Paul. "I decided I wanted to learn more about theory and pursue a certificate."
Paul enrolled at MiraCosta College, where he said he enjoyed the friendly atmosphere and benefited from his instructors' expertise. One year after he began the program, he graduated with a certificate in automotive technology. He then immediately passed the ASE tests and became a licensed smog technician. Soon after, he started his own business, Inspect-A-Car.
"With Inspect-A-Car I went on-site to perform inspections and give appraisals for people and dealerships selling cars. The business worked really well and I continued with it until I began teaching at MiraCosta."
Paul joined the faculty at MiraCosta as a part-time instructor in 2000. He loved teaching and moved to a full-time position in 2004. As a former student and a current instructor, Paul can attest to the quality education that students receive at MiraCosta College.
"MiraCosta's program is an excellent value. It's a great education on its own, but also offers so much more because it is a community college and is so much more affordable."