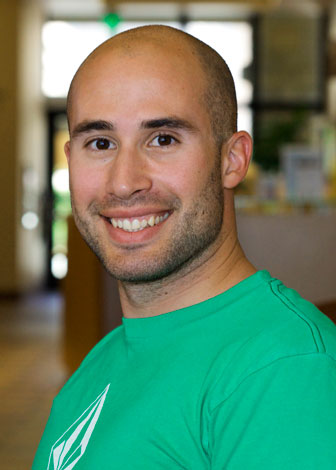 Living the life of a military brat never gave Peter Glatt a chance to call one place home or achieve a good sense of direction.
That all changed when he focused on education.
Back when he was a senior in high school, Peter always dreamt of attending college, but an unforeseen issue deterred him from applying to universities.
"I did well in high school overall, but the school counselor basically told me I had no chance of getting into any college with a 'D' in my report card," said Peter.
In 2008, when he graduated from Petaluma High School in Northern California, Peter was left to follow in his parents' footsteps and enlist in the military. He became a rescue swimmer in the Navy and was stationed in Guam for four years where met his wife, who is also in the military.
After six years in the Navy and realizing he wanted to build a better future for him and his wife, Peter thought it was time to move on.
"I felt I had experienced as much as I could in the Navy and needed something better," said Peter. "So, I decided to go to school and get a degree."
Since he had lived in Oceanside, Peter knew about MiraCosta College and had always known it to be a great school. In fall 2014, he began his undergraduate studies majoring in chemistry, even though it had been seven years since he stepped into a classroom.
"I never really thought I would have a chance to go to college, let alone major in chemistry," said Peter. "I actually dropped chemistry back in high school because I thought I would never use it for anything."
Now he is thrilled by the subject and all the opportunities it provides him.
Before finishing his first year, Peter found out about a new internship program at UC San Diego called Chemistry Connections for Community College Students (4Cs Program) funded by the National Science Foundation. He decided to apply.
"I wrote my heart out in the personal statement," said Peter.
It worked.
Peter became one of the ten students to receive a 10-week paid summer internship, which offers first-year students attending two-year colleges in the San Diego area an intensive and integrated early undergraduate research experience in the chemical sciences, at the frontiers of materials synthesis, human health and disease, energy and environmental science.
"This is the first time in my life that I really feel like I have direction—I feel I've truly found my calling," said Peter.
Students like Peter work closely with faculty and graduate students on research projects related to their interests.
"Before the program I liked chemistry, but now, I love it and whenever I learn something new it just blows my mind," added Peter.
Peter hopes to graduate from MiraCosta College by spring 2017 and transfer to UC San Diego to continue studying chemistry. His ultimate goal is to become a medical doctor.
Right now, he is focusing on his studies (he has a 4.0 GPA) and volunteers at Tri-City Medical Center for experience.
"Enrolling in college is one of the best decisions I have ever made," said Peter. "MiraCosta College is so affordable, the instructors and classes are amazing. It's my home away from home."