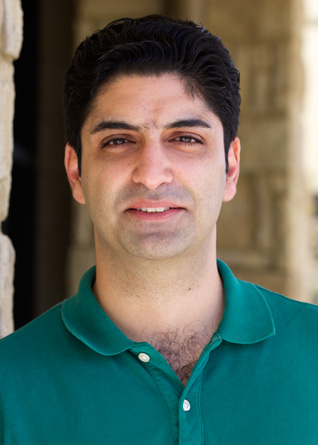 Many students study abroad to experience a different culture, find new interests or learn another, but rarely is it due to the limitations of their religion.
For years following the 1979 Iranian Revolution, many students of Bahá'í Faith saw their dreams of earning a higher education degree come to a halt. One of those students was Raham Khodadadeh, who had to leave home to pursue a degree he otherwise could not earn in Iran due to his religion.
At only 170 years old, the Bahá'í Faith is one of the youngest world religions in the world with a belief in the unity of mankind, the equality between men and women and universal education. With its progressive beliefs, the religion has been subject to religious persecution.
The Iranian Revolution resulted in Bahá'í students, professors and lecturers being denied access from colleges and universities in Iran. Khodadadeh's own father, who was the head of the chemistry department at an Iranian university, was dismissed.
Following high school, Khodadadeh searched for ways to complete higher education in his home country. He found the Bahá'í Institute for Higher Education (BIHE), an unaccredited institution founded in 1987, which allows Bahá'í youth an opportunity to obtain a university-level education.
"I've always wanted to study science, but it was nearly impossible in Iran because we needed permission from the government to study sciences like pharmaceutical or medicine," said Khodadadeh.
Instead, Khodadadeh decided to major in sociology. It was a major in which he felt he could thrive due to his life experiences.
"Growing up in a situation like I did, I've become very curious of the society and why things happen the way they do," said Khodadadeh.
After finishing his studies at BIHE, he left Iran and moved to the United Kingdom to attend the University of Sheffield in hopes of earning a master's degree in sociology.
When he graduated, he felt it still was not enough.
In late 2014, Khodadadeh made another big move. This time to San Diego County where he has restarted his higher education journey at MiraCosta College.
"My first experience at MiraCosta was very welcoming. I was introduced to the right individuals who have helped me keep on track with my educational goals," said Khodadeh. "Also, enrolling here was such a smooth process, which was just amazing."
Today, Khodadadeh is on track to finish his biology and chemistry prerequisites. In his spare time, he works at the Tutoring & Academic Support Center as a chemistry tutor. His ultimate goal is to attend medical school and practice medicine.
"MiraCosta has been nothing but helpful and encouraging. The instructors also give you perspective and a sense of belonging and inclusion. I'm extremely happy where I am now."