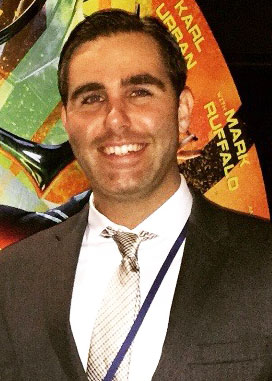 Reid Ackerman is living his dream of working in the Hollywood film industry. And he credits MiraCosta College with helping him get there.
"MiraCosta was awesome," said Ackerman. "The school, the programs, the people there all played a huge role in guiding me to where I am today."
Born in Poway and raised in Encinitas, Ackerman enrolled at MiraCosta College after graduating from Sunset High School in 2007.
The choice was a no-brainer.
"Both the San Elijo and Oceanside campuses were close to my home, and I knew I wasn't ready to go to a four-year school," he said. "I also knew a lot of other kids who did leave home, went away to university, then came back and went to MiraCosta. So, I figured I'd go to MiraCosta for a couple years and then transfer to a university, and save a lot of money in the process."
Ackerman's goal from the beginning was to work in the film industry – "I've always loved film since I was a kid; I never had any interest in doing anything else" – and he earned a bachelor's degree in cinema, television and the arts, with an emphasis in screenwriting, from Cal State Northridge after graduating from MiraCosta in 2010.
Ackerman had nearly completed his master's program in film at Cal State Northridge when Warner Bros. offered him a job as clerk floater, so he put his studies behind and launched his career. That was followed by a job as an executive assistant at Paradox Studios in Beverly Hills, which specializes in the production and financing of independent films and where he still works today helping to develop new projects, developing scripts, and scouting out available directors to take on various productions.
"Reid knew what he wanted to do and he went out and did it," said Ackerman's former film instructor, Kevin Wheeler. "He's just a very talented, very motivated, and very good-natured, individual, and I couldn't be happier for him."
Ackerman's dream is to run a production company specializing on films and television shows licensed via intellectual property rights, and developing original material in the spirt of the flicks he grew up with, from Billy Madison to E.T. the Extra Terrestrial.
Ackerman can describe his experience at MiraCosta College in a single word.
"Incredible."
"When I got to MiraCosta, I didn't know what to expect," said Ackerman, who was a member of the school's Honors Program. "But it quickly became clear that the professors were there for you, they really cared about how you were doing, and they would even go so far as to manage their class to fit your interests. Even after I went to a university, I felt like the professors at MiraCosta were better. It was an incredible experience."